Most octogenarians would consider themselves lucky to be able to not have a hip or back problem, but this 81-year-old Japanese bodybuilder is not only in perfect physical condition, he also looks better than a lot of men a quarter his age.
Toshisuke Kanazawa is living proof that you're never too old to hit the gym and achieve the body you've always dreamed of. A multiple-time champion bodybuilder in his youth, Kanazawa retired at the age of 34 and really let himself go. He stopped exercising completely, started drinking, smoking and eating whatever he craved, when he craved it. He would often look at himself in the mirror and wondered if that was the body of a national bodybuilding champion, but it wasn't until he was about to turn 50 that he got his motivation to get back on the horse and regain the ripped body of his younger years.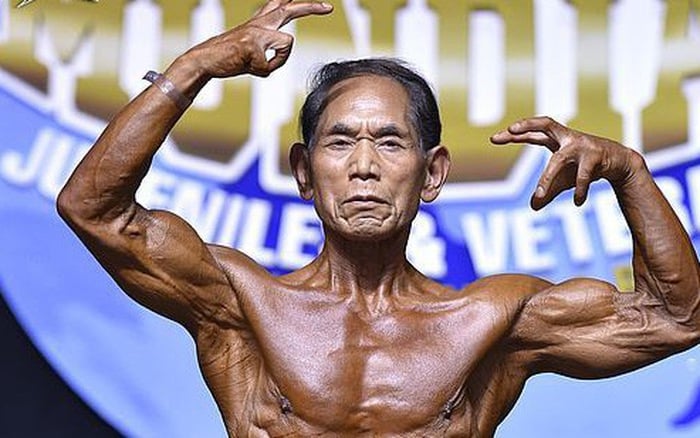 Photo: Igor Kopcek/East Labs Team
Around 30 years ago, Toshisuke Kanazawa's wife started feeling sick frequently, and while thinking of ways to make her feel better, the former bodybuilder remembered that she had never been happier than when he won the national championship. So to please her, he decided to go back into the gym, drastically change his diet and regain his toned physique.
To stand a chance of losing his flabby gut and becoming "Japan's best bodybuilder" at such an advance age, Toshisuke had to give up smoking at drinking and adopt a diet based on unpolished rice, "natto" fermented soybeans, miso soup with eggs and protein supplements, but no meat or fish because they were too difficult to digest.
His weightlifting regimen had to be adjusted to his age as well. In his youth, he would spend up to six hour training in the gym every day, and his body would recover within two days after a particularly intensive workout, but that was not the case anymore. He cut the daily gym time to three hours, and started giving his body one week to recover after exercising every muscle group.
Kanazawa started seeing the results of his hard work soon after his drastic lifestyle change, but there was one other effect of ageing that bodybuilding could not mitigate completely – wrinkly skin. So he started using oil derived from horses, which he still uses today, and his firm skin is actually one of his greatest assets at competitions.
In 2016, at 80-years-old. Toshisuke Kanazawa placed sixth in the world in a contest for bodybuilders over 65, and won a special gold medal as the oldest competitor, as well as the admiration of the crowd. He wants to continue bodybuilding until he is at least 85, and squarely face his physical decline.
Sport keeps this octogenarian healthy, as he claims to not have suffered so much as a cold since he started bodybuilding again at age 50. He has also managed to stay injury-free and says that knee or other joint pains are very rare occurrences for him.
"I want to be a super old man in the bodybuilder community while squarely facing my physical decline," Kanazawa recently told Asahi. "If I have a goal, I can continue moving forward. I have to work much harder."
Well, if you needed some motivation to get back in the gym, it doesn't get much better than this.