Russian authorities in the city of St. Petersburg recently came under fire after it was discovered that they had used digital editing software like Adobe Photoshop to fake the cleanup of a local lamp post.
Last week, a resident of St. Petersburg submitted a request on the local government official website asking that a lamp post covered with obscene advertising stickers be cleaned. This Tuesday, an employ of the St. Petersburg administration responded to the complaint, letting the person know that the job had been done, even posting a photo of the cleaned up lamp post as proof. It had apparently been scrubbed of advertising materials, but after taking a closer look, a number of users noticed that the infrastructure element depicted in the photo didn't look quite right.
Zooming into the picture, it was revealed that the lamp post in question had been given the "spray can" treatment to create a two-tone speckled grey effect over the stickers. And as if the shoddy digital cleanup wasn't obvious enough, someone even noticed a bizarre "blob" of white digital spray paint suspended in mid air by the right of the infrastructure element.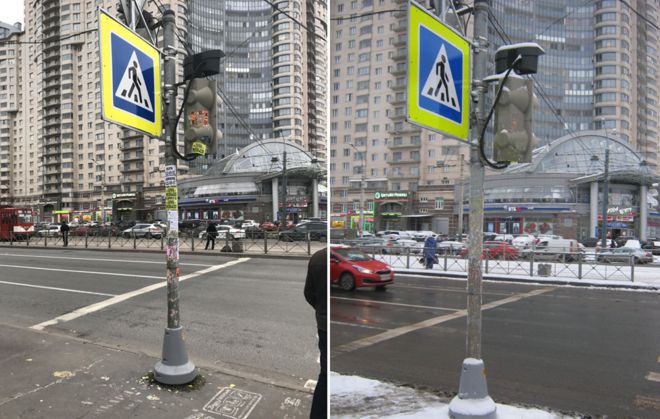 After the post went viral on Russian social media, reporters from Radio Baltika decided to investigate. They went to the busy intersection where the lamp post was located and found that it was still covered in advertising stickers for "sex services". Baltika posted an article about the situation on their website, with the headline "St Petersburg officials used Paint to clean adverts off the lamp post," which spread like wildfire online.
Faced with heavy criticism from the public, St. Petersburg authorities put out a statement insisting that the cleanup job had actually been performed, but that an "overzealous" employee may have taken it upon themselves to embellish the results a little. "In any place you can find a person who wants to present the situation in a better light than it really is. We will of course investigate," Dmitry Popov told Radio Baltika.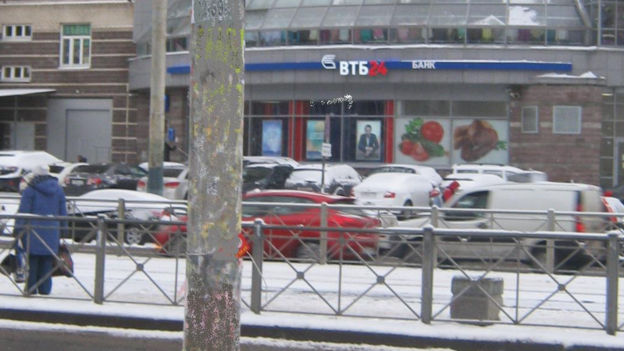 That reaction didn't stop Russian internet users from mocking the embarrassing digital makeover on social media. One person posted their own version of the 'after' photo, where the lamp post is so clean that it sparkles, while another commented "I'm looking forward to the time in Russia when they will eradicate poverty, crime rate and unemployment with the help of Paint. Quick and easy."
Incidentally, this controversy occurred mere days after a similar incident was reported in the Primorsky district of St. Petersburg. Then, officials responded to a request to have a local pathway repaired with a digitally rendered photo that depicted it in pristine condition. "The repair of the mentioned asphalt walkway has been completed. Photo attached," their response mentioned. After a similar backlash from the public, the official explanation was that instead of announcing the postponement of repairs for 2017, one of the administration employees mistakenly uploaded a Photoshop-edited picture of what the walkway would look like when covered with asphalt. It was nothing more than a mock-up shared by a contractor, but it was apparently so well done that the employee mistook it for an actual photograph.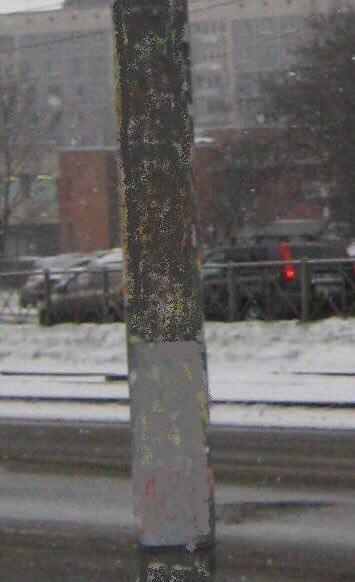 However, this most recent story shows that it wasn't just an isolated accident and that St. Petersburg government may be using digital software as a quick and cheap fix to the city's problems.
Source: Radio Baltika via BBC