For the past five years, 44-year-old Finish-Syrian Rami Adham has dedicated his life to helping the children of Aleppo cope with the horrors of war by smuggling toys into the besieged city.
Rami Adhman was born in Aleppo, but moved to Finland with his family in 1989. When the Syrian civil war started, in 2012, he decided he had to help the children of his native city in any way he could. In the beginning, he never planned on taking toys, thinking that food, medicine, and drinking water were the things that mattered most. However, on one occasion of crossing the border, his daughter told him she wanted to donate her toys to the kids of Aleppo. He took the girl up on her offer, and upon seeing the joy on the Syrian children's faces when he took the toys out of his backpack, he decided to make them a priority on his subsequent runs.
Adham soon became known as the "toy smuggler" and the "Santa of Syria". He has so far made the journey from Helsinki to Aleppo 28 times, and doesn't plan on stopping until the war ends. Until two years ago, he crossed into Syria through the border with Turkey, but after it closed down, he started crossing into the war-torn country illegally, carrying an 80kg bag of toys on his back all the way to Aleppo. It's a dangerous trip that he has to make by foot, because it's dangerous to drive through rebel-held and government-held districts. But those aren't the only forces he has to avoid, as he claims that his humanitarian efforts have also made him a wanted man by ISIS and Shia militias in Syria.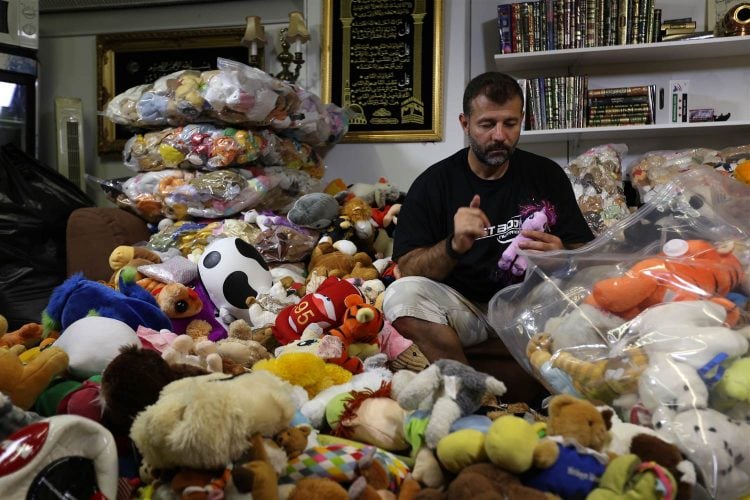 However, the dangers he faces on his every trip aren't enough to stop the toy smuggler. His mission is just too important. "Right now, Syrian kids are just facing death and insecurity and constant threats. Toys are important," he told The Telegraph.
"I can't describe the emotions of the kids," Rami recently told ZoominTV. "It's something, as if they have got a new friend that can only be their friend. In this time of heavy bombings, there's nothing we can do. At least we can bring some joy to these kids.
"Kids keep on coming to me and saying 'You see all these toys I have? These are all from you, I've been collecting them. I have a family of toys now.' It's just beautiful," he adds.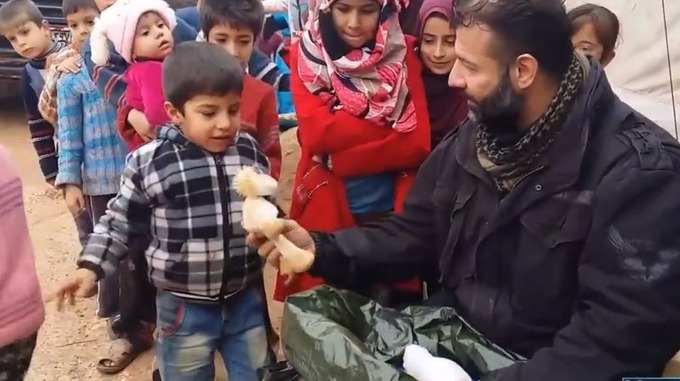 The father of six smuggles about 1,000 toys weighing 80kg on his every trip to Aleppo. They range from teddy bears, to Barbie dolls and action figures, depending on what he receives from donors back home in Helsinki. Regardless of what they receive, the children are always happy to have something new to play with.
Rami Adham's efforts have attracted a lot media attention lately, with major outlets CNN, The Guardian, The Independent trying to get an interview with him, but he stresses that it is important to focus on the big picture, not only his "feel-good" story, when it comes to Syria. "I don't know, I'm not really interested in the media and their interest in my work but I want to focus on is that my work continues. So I'll keep on doing my part as long as I will be able to… I don't care whatever the circumstances or what the media thinks," he told Al Arabiya.
He might not care much about media attention, but the extra attention might end up helping Adham reach his humanitarian goals. He currently has a campaign running on GoFundMe, trying to raise €100,000. If successful, he plans on using the money to build schools in Syria close to Turkish borders, where they would be safe from constant bombing.
Asked what message the people still trapped in Aleppo have for the rest of the world, the toy smuggler said that they feel like everyone has abandoned them. These are people, not just numbers and statistics. They want to know that the outside world one thing: how much death is enough for the world to react. Is it 200,000, 300,000, 700,000, a million? When is it enough until the world reacts? They cannot wait forever," Rami concluded.
This 'Santa of Syria' is just one of the real-life angels putting their lives at risk to make a difference in the ravaged city of Aleppo. Just last week, we featured the story of Mohammad Alaa Jaleel, a.k.a. 'the cat man of Aleppo', who not only takes care of over one hundred felines in the besieged city, but is actively involved in human rescue operations. In the face of such terrible tragedy, it's people like this that restore our faith in humanity.
Photos: Rami Adham