FBI agents in Florida are investigating a potential bank burglary, after a small sinkhole in a road in Pembroke Pines revealed a mysterious 50-yard tunnel that appeared to be heading toward a local Chase bank.
It all started Tuesday night, when public works employees in Pembroke Pines received a complaint about a sinkhole in the middle of the road at 390 South Flamingo Road. The next morning a crew of workers was sent out to investigate and fix the damage, but after looking into the sinkhole and seeing what looked like a power cord running between a nearby bank and a wood line, they decided to hold off the repairs and notify the police. The sinkhole turned out to be linked to a narrow underground tunnel heading from an entrance near the tree line towards the bank, so police reported the matter to the FBI.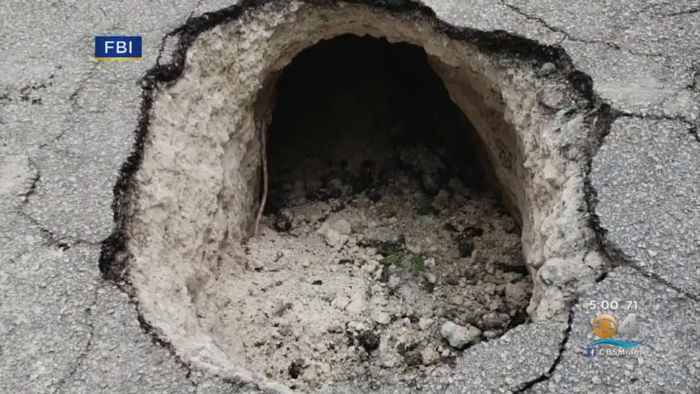 Photo: YouTube screengrab
Apart from the power cord running through the tunnel, investigators also found a small generator, a winch, some boots, a bucket, a small wagon and several other undisclosed items near the tunnel entrance, which had been concealed with wooden boards.
"I don't know how they did it. I would like to put it into words for you. But it is so cramped in there, and that wagon is – I mean it's a puzzle. I can't imagine how they did it," FBI special agent Michael Leverock told reporters. "This is truly a unique case here. I would like to say that I saw something like this in movies, however, this hole is so small that – it's unique."
The tunnel is only-2-3 feet in diameter and goes underneath the grass, the road, all the way to the entrance of a local Chase bank. Investigators have described it as "very claustrophobic", adding that whoever went inside was clearly not frightened by really tight spaces. Although it's yet unclear how the diggers planned to use the tunnel, FBI agents are all but certain they were heading for the bank.
"They were heading towards the bank, and that's for sure," Leverock said. "I would say it's an attempted burglary of the bank. They're heading toward the ATM, I don't think they were doing that for any other reason."
After inspecting the tunnel, investigators estimated it was about 50-yards-long, but they still have to remove some pavers to get a better idea of how extensive it really is. But the real mystery is how anyone could get inside to dig it. FBI agents were so shocked by how narrow it was that they even brought in a cadaver dog to check if there was a dead body stuck inside. There wasn't.
At this point, investigators are stumped and have asked the public to help if they have any information regarding the mysterious tunnel.
"So, if somebody's been bragging about this, somebody's seen this wagon, seen a generator and some folks who are talking about a tunnel, certainly give us a call," agent Leverock said.