A South African pastor has been making news headlines all over the world for staging a hilariously ridiculous prank in which he appears to bring a dead man back to life in front of a congregation of churchgoers.
Pastor Alph Lukau, of the Alleluia Ministries International church, in Kramerville, South Africa, has landed in hot water after a video showing him supposedly bringing a dead man back to life went viral online. The controversial religious figure can be seen putting his hands on the "dead" man's chest and shouting "rise up!". The man, who had supposedly died last Friday due to an undisclosed illness, opens his eyes and rises from the coffin with his mouth and eyes wide open, to the shouts and cheers of churchgoers gathered around him.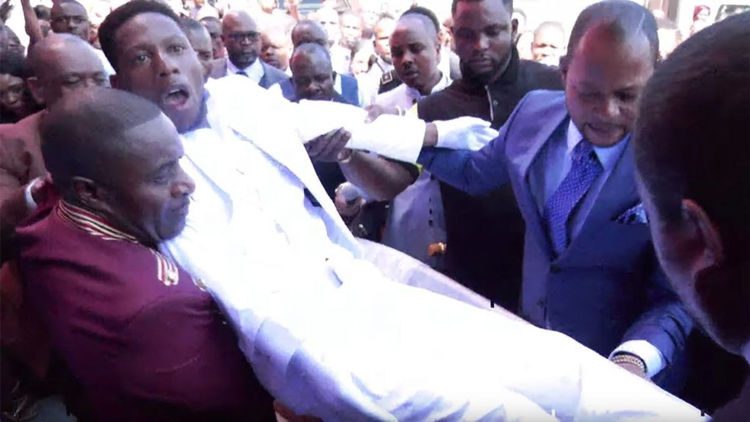 Within hours of the footage being shared online, Twitter was flooded with videos of people staging their own resurrection miracles and ridiculing Lukau for his stunt. News outlets started reporting on it as well, and it wasn't long before South African authorities and religious figures put out statements condemning Pastor Lukau's actions. He has now been sued by several parties, including the funeral parlors he allegedly tricked into indirectly participating in the farce. Lukau is now facing charges of organised crime, fraud and misrepresentation, among others.
The funeral parlors that provided the hearse, coffin and the dead man's attire have denied any involvement in the resurrection, claiming that they were deceived by Alph Lukau and his associates. They are now taking legal action against the Alleluia Ministries leader for misleading them and causing damage to their reputation. A South African bishop has also sued Lukau for misrepresenting Christian religious figures with his shameful "miracle".
Although it seems quite clear that Alph Lukau went out of his way to make it seem like he had brought a person back to like with the power of God, the Alleluia Ministries International church has backtracked on the resurrection claim, following the heavy backlash from the public. They are now claiming that the man in the coffin was indeed alive when the miracle was performed, but they are also maintaining that he had indeed died a few days before. What they're basically saying is that Lukau "completed a miracle that God had already started".
You're probably wondering what happened to the dead man, right? Well, he's apparently been arrested for taking part in the stunt. Eyewitness News reports that he has been identified as 'Brighton', from Zimbabwe, an unqualified worker employed by a timber company in Pretoria.
Speaking to 702's Azania Mosaka on Tuesday, a man claiming to be Brighton's employer said that this was not the first time he helped Lukau perform miracles in front of his congregation. He previously pretended to be a wheelchair-bound man to make it look like the Alleluia Ministries leader used his power to help him stand up.
"Can you imagine what a life he's had? He's worked for me, he died, he was resurrected and now he's been arrested," Brighton's supposed employer jokingly said.
This isn't the first time we've covered ridiculous "miracles" performed by shady African pastors. A couple of years ago we featured Lethebo Rabalago, who claimed to heal people by spraying them in the face with insect repellent, and Bongani Maseko, who asked his congregates to drink motor oil if they wanted to be be "saved, healed and delivered". And who could forget Paul Sanyangore, the Zimbabwean pastor who claimed to have God's direct phone number, and actually talked with Him on the phone?