Pastor Lethebo Rabalago of Mount Zion General Assembly, in Limpopo, South Africa, has recently been accused of endangering his congregates' lives by spraying them with insect repellent, as a healing method.
This bizarre practice first made news headlines in South Africa after photos showing Pastor Lethebo Rabalago spraying what looked like Doom bug spray in the faces of various congregates, were posted on the Facebook account of the Mount Zion General Assembly. One photo of a woman was captioned: "Mrs Mitala. The Prophet called sick people to come forward. She went to the forth and told the Prophet that she suffers from ulcer. The Prophet sprayed doom on her and she received her healing and deliverance. We give God the glory!"
Doom is a popular brand of insect repellent with serious adverse effects if inhaled (vomiting, seizures, or the loss of consciousness) or if it comes in contact withe the eyes, but Pastor Rabalago doesn't seem too concerned about it. In a telephone interview with enca, the controversial "holy man" admitted to spraying his sick congregates with Doom bug spray as a way to heal them, adding that so far none of them have reported any side-effects following the ritual.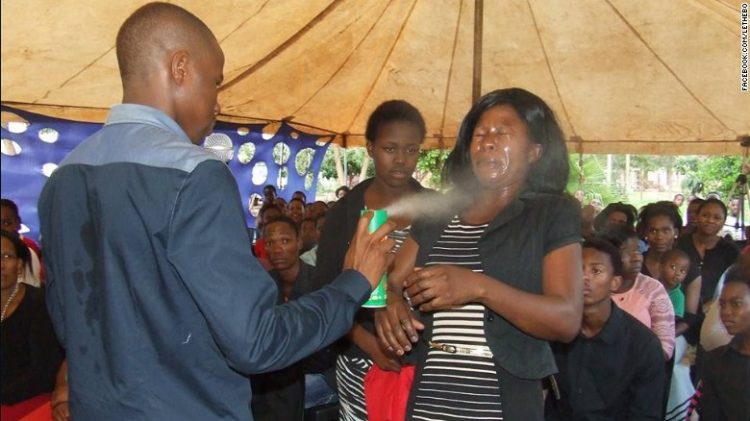 But the really interesting part is that spraying people with bug spray is only part of the cleansing method. Rabalago claims to have the power to control demons, which he commands to enter the body of the sufferer. He then speaks to the demons, telling them to deal with the health problems of his congregates (be it cancer, HIV, or virtually any other condition), before using the insect repellent to drive out the demon, leaving the person in perfect health. To his credit, Rabalogo said that it's not him performing these feats, but God.
During the interview with enca, the South-African pastor said that it's not the bug spray doing the healing, but a divine power, adding that he could use anything from water to oil with the same effect. Asked why he doesn't just use water or oil instead of a hazardous chemical products, Rabalago said that it was because – you guessed it – God told him to use Doom.
Regarding the outrage expressed both by the general public and other religious figures about his unconventional healing practice, Rabalago said that they are not on his level and they simply don not understand the power of God. Well, they do say He works in mysterious ways, so…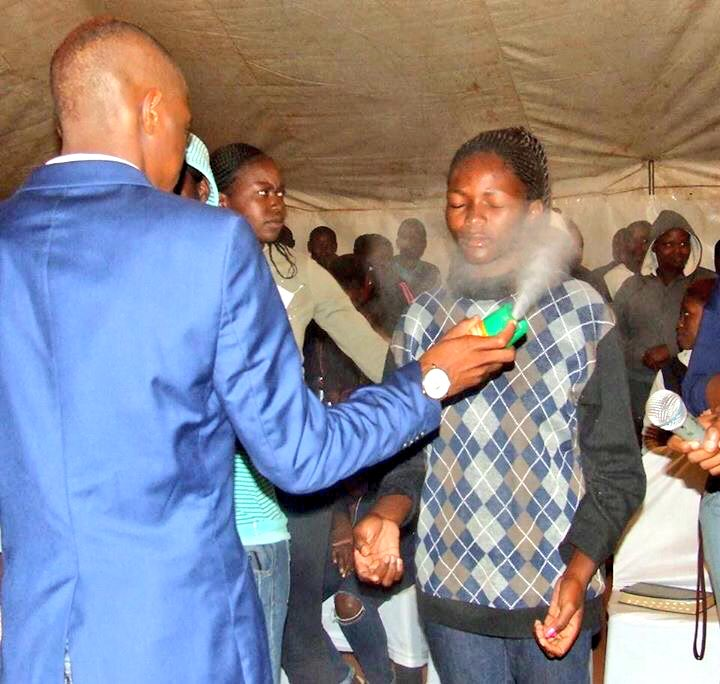 Interestingly, this is not the first time we've covered the "holy" work of Pastor Lethebo Rabalago. In August, we posted a story about a young woman who died after Rabalago made her lie down and placed a giant speaker on her body before climbing on top of it. He was trying to show the congregation that if Jesus could walk on water, he too could perform incredible miracles. It was only after removing the speaker and asking the woman to rise that he realized she had become unconscious. She later died due to internal bleeding.
If he managed to stay out of jail and keep preaching his nonsense after that first incident, I imagine this bug spray controversy won't affect him at all. I have a feeling that we'll be hearing about this guy again soon.
Photos: Mount Zion General Assembly/Facebook
Sources: enca, Times Live