A cafe in Venice, Italy has been slammed as a tourist trap after recently charging a man €43 ($50) for  two espressos and two small bottles of water.
Venice's St. Marks Square is known for its notoriously pricey cafes and restaurants, but one such establishment has been getting a lot of negative attention online after a bill of €43 for two espressos and two small bottles of water went viral online. Juan Carlos Bustamente, a 62-year-old Chilean political consultant currently living in Italy, posted the receipt from Caffe Lavena on his Facebook page and it quickly went viral, with many commenters expressing their outrage about the insanely high prices.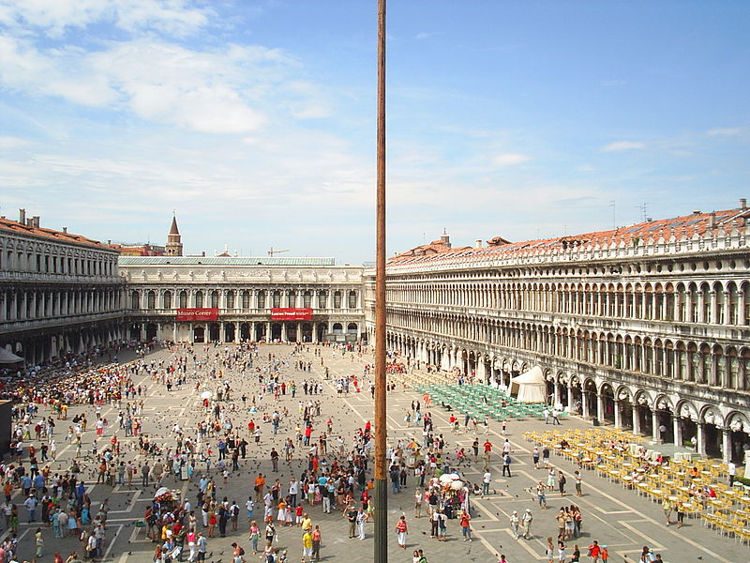 Photo: ChrisSampson87/Wikimedia Commons
"I don't know how you feel about it, but 43 euros for two coffees and two bottles of water is outrageous!" Bustamante wrote on his Facebook page, and most people seem to agree with him. Posted about a week ago, the the 62-year-old's photo of the receipt has been shared nearly 10,000 times on Facebook alone and has received over 1,800 comments, mostly from outraged people.
Bustamante's Facebook post eventually received worldwide media attention, which prompted a reaction from Caffe Laverna. A spokesperson recently told reporters that prices are very clearly stated in the menus, but tourists just don't pay attention to them and then end up complaining when they get the bill.
"People get annoyed when the bill arrives because they do not listen when we hand them the menu even though it states clearly enough that prices are higher to sit outside. They just wave us away and if we insist they get irritated." the spokesperson said. "If they just want a coffee they can have it at the bar for 1.25 euros. If they want to sit outside and enjoy the music of the orchestra, look at the bell tower and the Basilica of St Mark's, then they are paying for an entirely different experience."
This explanation didn't seem to appease the outraged masses, many of whom took to TripAdvisor reviews to recount their own negative experiences at Caffe Laverna.
"We naively didn't look at the menu before ordering water and coffee for a family of five. €78 (£69)!!! Including €11 (£9) per latte and €9 (£8) for a glass of milk for a three year old. Avoid at all costs," one tourist wrote.
"Positives: the view, the music, the Aperol spritz. Negatives: the price which suggests the plates are made of gold and the food would be Michelin star (spoiler: it's not)," another person poster on TripAdvisor.
The Telegraph recently reported that Caffe Laverna has had to deal with complaints about its outrageous prices for years. For example, in 2013, after a group of patrons took to Facebook to express their outrage about their €95 ($109) receipt for four espresso coffees laced with liqueurs. Then-manager Massimo Milanese offered a very similar explanation:
"The prices are there for everyone to see, there really is no doubt. It is for customers to decide whether they want to have a coffee standing up at the bar, or to sit down in the piazza. The cafe was established in 1750 so we are one of the most historic in Venice. It was patronised by Richard Wagner and many other famous people. It's part of the city's history."
But while Caffe Laverna may be in the spotlight right now, it's certainly not the only cafe in Venice to charge outrageous prices for what the call "the experience". With an increasing number of complaints from tourist regarding this practice, the city's mayor promised to investigate and step in if necessary.
"If this disgraceful episode is confirmed, we'll do all we can to punish those responsible. We are for justice – always," mayor Luigi Brugnaro said in response to the case of four Japanese tourists who had allegedly been charged €100 for a plate of fried fish, four steaks and a bottle of wine at an unnamed restaurant close to St Mark's Square.