A young Vietnamese couple got their five minutes of online fame last month after photos of their unique Doraemon-themed engagement party went viral on social media.
Khanh Lam and Xuan Khanh are both big fans of Doraemon, the blue robotic cat beloved by millions of people all over the world, so while brainstorming ideas on how to make their engagement an event to remember, they decided to go with a Doraemon-themed party. Although they expected their families to disagree with their "childish" idea, they were surprised to receive a lot of support from everybody. About six months ago, they started collecting all sorts of Doraemon memorabilia and last month they finally put together their dream engagement party.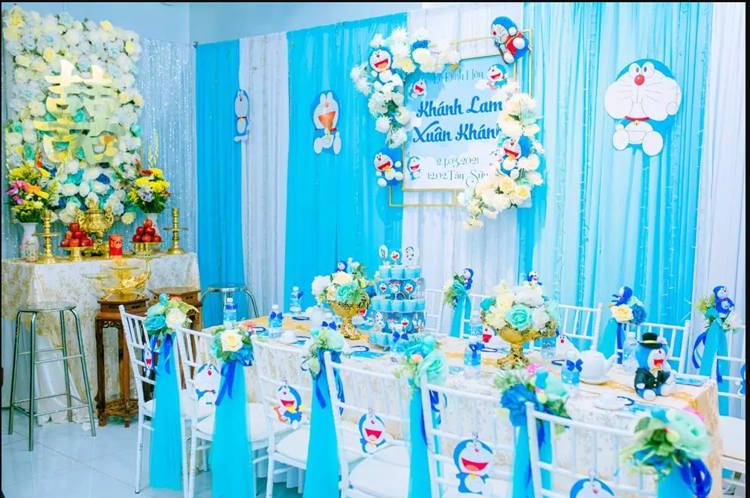 Everything from the table cloths to the cake and even the bridesmaids' dresses were blue with some sort of element related to the popular mechanical cat, and so was the venue that the party took place in.
Xuan Khanh, the 29-year-old groom, joked that his wife-to be has been in love with him for only six years, but she has loved Doraemon for as long as she can remember. So when they discussed the possibility of a Doraemon-themed even, he couldn't find in his heart to say no.
Apparently, Khanh Lam's family owns a bookstore, so she was exposed to Doraemon books and manga from a very young age, and she never outgrew love for the adorable character.
"I am so crazy about this character that whenever my family or friends travel somewhere, they always bring me back some Doraemon memorabilia," the 28-year-old bride-to-be said.
Contrary to popular belied, all the custom Doraemon decorations weren't all that expensive, as most were actually by the couple and their families.
Khanh Lam and Xuan Khanh will get married in July, and, following the success of their engagement party, they plan to have a Doraemon-themed wedding as well.
As one of the most popular manga characters of all time, Doraemon has many fans all over the world, including this Indonesian family who have turned their home into a Doraemon-themed temple of sorts.