Vietnamese women looking to avoid the social stigma of having a child out of wedlock are increasingly turning to grooms-for-hire businesses that specialize in throwing fake weddings complete with fake grooms and guests for a hefty fee.
Becoming pregnant before marriage is usually frowned upon in Vietnam, particularly in the northern parts of the country, where traditional social norms are still very strong. With over 300,000 abortions recorded every year, Vietnam's abortion rate ranks fifth globally and first in Asia. Data shows that most of these pregnancy terminations are caused by social pressure, as 20 to 30 percent of women seeking abortion are not married, while most of the rest are young students. But what happens when a mother wants to keep the baby while at the same time avoid disgracing herself and her family? Well, that's where the grooms-for-hire businesses come in.
Photo: Vinamost/Facebook
People in Vietnam rarely talk about fake grooms and weddings, but the reality is that they've been around for decades and are becoming increasingly popular. They offer women an effective albeit expensive way to save face in front of their family and friends, by organising fake wedding receptions, complete with fake grooms and wedding guests. Some even offer five-year plans, allowing clients to rehire their "husbands" for various events and maintain the illusion that they are married for longer. Prices vary considerably, but they are almost always in the millions of Vietnamese dongs.
Last year, VN Express covered the case of Thong, a 23-year-old from the Mekong Delta city of Can Tho. She was five-months pregnant and was waiting outside an abortion clinic with her mother. Thong's boyfriend had broken up with her soon after learning about her pregnancy, and her mother, who had experienced her share of public shaming as a single mother, didn't want her to go through the same painful experience. It was at this clinic that the young mother-to-be happened to see an ad for fake grooms, while searching for options on her smartphone.
Thong was almost convinced that it was a joke or some sort of scam, but desperate for a solution that would allow her to keep the baby and save face, she called the number on the ad. That's how she found Nguyen Van Thien, the manager of a Hanoi bridal service company that had been renting out fake grooms for over a decade. He did his best to convince the woman that the service was very real, and to sweeten the deal, he even offered to throw the wedding party, free of charge.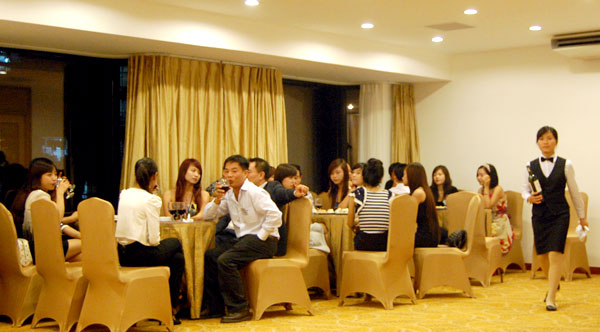 Photo: Vinamost
The VIP package offered by  Van Thien ended up costing Thng and her family VND98 million ($4,300), but the wedding went great and the woman's mother actually called the manager to thank him for "saving her grandson".
But this is just one of many stories Van Thien has to tell, as he told VN Express that he had rented out grooms to over 1,000 women in the last 10 years. Last year, he had over 1,000 employees, most of them fake grooms and wedding guests who could take part in up to 15 weddings a month.
That may not seem like a lot of fake weddings for such a large staff, but every event requires special preparation to ensure that everything turns out great. The actors playing the groom, his family and friends have to learn as much as possible about the bride and her family, memorise their lines and be prepared to act a certain way, depending on the requirements of the client.
Photo: Vinamost/Facebook
"Depending on the case we hire different actors. For example, a wealthy family will have higher demands. The groom's father and mother must also have good education and jobs," Thien told Vietnamnet.
Thien admits that women who have become pregnant outside of wedlock make up the majority of his clients, but he also offers a way out for lesbians who don't want to come out to their families, or who are forced to marry by them.
Nguyen Van Thien's fake groom service is one of many currently available in Vietnam. Last month, AFP featured a company called Vinamost, which also specializes in groom rentals. It reportedly has around 400 wedding impostors available, and offers various packages ranging between $1,500 and $4,500.
Such services are controversial, but they are definitely not illegal. Since they do not involve any sort of official certificates and wedding parties are not bound by law, fake weddings are basically viewed as just-for-show theatrical performances.
Thien is happy to provide clients with a happy ending, and to those criticising him and his business model, he says that groom-rental companies would not exist without the social pressure they exert on young Vietnamese women.
"The existence of this service just shows how severe the prejudices are. If those women hadn't had fake weddings, they would have had to abandon their children or move somewhere else far away," the entrepreneur said.