An ambitious mother who wanted to set a unique Guinness World Record gave her daughter a 1,019-letter name which resulted in her getting a two-foot-long birth certificate.
Over the years, we've featured some pretty unconventional baby names here on OC, but most of them at least made some kind of sense. The world's longest name recorded on a birth certificate, on the other hand, is just that, long, and pretty much impossible to pronounce, but then again, that was basically the point. The mother who gave her daughter this incredibly long name told Oprah Winfrey that she just wanted to set a Guinness record and at the same time make sure that her girl had a unique name.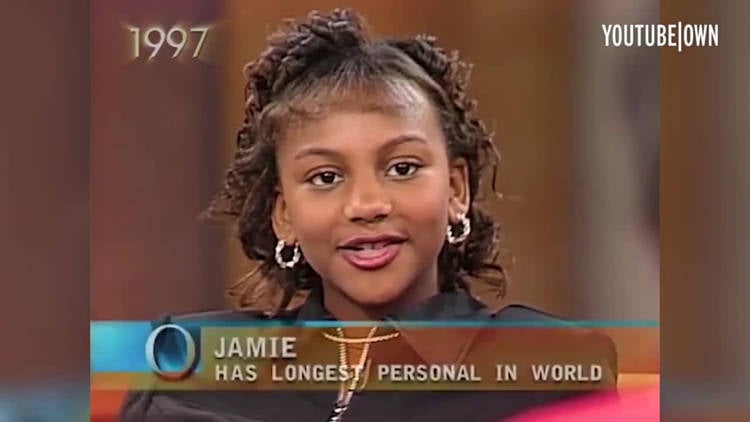 Photo: Oprah Winfrey Network/YouTube
"I had to do something to break a Guinness Book record. I had to make sure that her name was going to be unique. I didn't want her name to be like anyone else's," the woman, Sandra, said on the Oprah Winfrey Show, in 1997.
At the time the show aired for the first time, staff needed to create a special graphic just to show the young girl's name on the screen. But what really stunned both the audience and viewers at home was when the girl, who went by "Jamie" recited her full name flawlessly. See if you can do the same:
Rhoshandiatellyneshiaunneveshenkescianneshaimondrischlyndasaccarnae renquellenendrasamecashaunettethalemeicoleshiwhalhinive'onchellecaundenesh eaalausondrilynnejeanetrimyranaekuesaundrilynnezekeriakenvaunetradevonneya vondalatarneskcaevontaepreonkeinesceellaviavelzadawnefriendsettajessicanneles ciajoyvaelloydietteyvettesparklenesceaundrieaquenttaekatilyaevea'shauwneorali aevaekizzieshiyjuanewandalecciannereneitheliapreciousnesceverroneccalovelia tyronevekacarrionnehenriettaescecleonpatrarutheliacharsalynnmeokcamonaeloies alynnecsiannemerciadellesciaustillaparissalondonveshadenequamonecaalexetiozetia quaniaenglaundneshiafrancethosharomeshaunnehawaineakowethauandavernellchishankcarl inaaddoneillesciachristondrafawndrealaotrelleoctavionnemiariasarahtashabnequcka gailenaxeteshiataharadaponsadeloriakoentescacraigneckadellanierstellavonnemyiat angoneshiadianacorvettinagodtawndrashirlenescekilokoneyasharrontannamyantoniaaquin ettesequioadaurilessiaquatandamerceddiamaebellecescajamesauwnneltomecapolotyoajohny aetheodoradilcyana.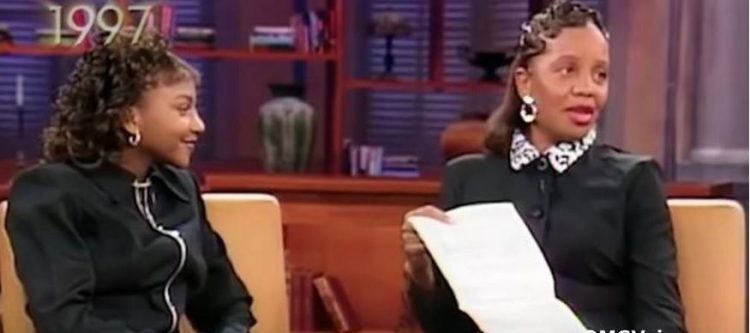 Photo: Oprah Winfrey Network/YouTube
And that's just her first name. Her middle name is Koyaanisquatsiuth and her last name is Williams. But since her first name isn't the easiest in the world to pronounce, she just goes by Jamie.
Sandra told Oprah that when her daughter was born on September 12, 1984, she and her husband wrote Rhoshandiatellyneshiaunneveshenk Koyaanisquatsiuth Williams on her birth certificate, but then they decided it wasn't long enough, so they filed an amendment which made her first name 1,019 letters long, and added the 36-letter middle name for good measure. Her birth certificate was 2ft long.
Y'all, this clip of Oprah in '97 looking like pure confusion while listening to this little girl with the World's longest name 😭😭😭😭😭😭 pic.twitter.com/0YvHPp4XXQ

— Talia Caldwell (@ESOTERICTalia) February 4, 2020
Giving the girl an annoyingly-long name was one thing, but making her learn it was quite another. She had to record the name on a tape and then play it to her over and over until she learned it by heart. On the show, young Jamie said she loved her unique name because it made her famous and allowed her to travel to do shows and miss school.
Even though the Oprah Winfrey Show episode about the world's longest name on a birth certificate aired in 1997, it went viral online in 2019, when it was uploaded to the OWN YouTube channel, where it has since been viewed over 8 million times. It has been doing the rounds online ever since.
Interestingly, the Guinness record for the world's longest last name was set by a German man whose last name was made up of a total of 747 letters.