From Whatsapp to WeChat or Skype,the world has plenty of choices when it comes to messaging apps that connect friends and strangers on the internet. The market is so crowded this days that for a new competitor to even get noticed, they'd have to come up with something completely new. Enter "Die With Me," a fresh chat app that can only be used when your smartphone has 5% or less battery remaining.
Die With Me allows total strangers with low battery to log into an online chatroom and converse as they wait for their handhelds to shut off completely. Or, as the developers so poetically put it, to "die together in a chatroom on your way to offline peace." Using Die With Me requires nothing more than choosing a username and allowing the app to read your battery status. The idea behind the strangely poignant app was to turn the frustrating experience of dealing with low phone battery into a positive one.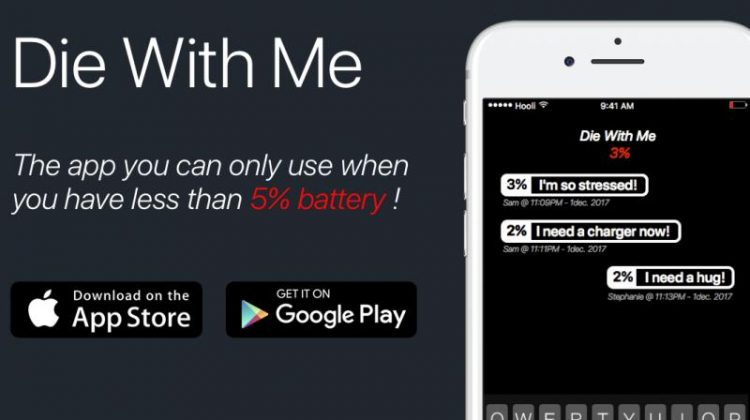 "I have to travel a lot to speak about my work at all sort of conferences," the app's co-developed Dries Depoorter told Digital Trends. "I was in a city that I didn't know on my way back to the hotel, and my phone battery was low. I was really stressed about this as it was already turning to night. At that moment, I had the idea for an app that you can only use when you have low battery. But I didn't know how it would work until we came up with the idea of making it a public chatroom."
"We wanted to do something positive with a low battery," Depoorter said to Motherboard. "Now we see people happy with a low battery, having low-battery conversations."
The beta version of the app was showcased by developers David Surprenant from Canada and Dries Depoorter from Belgium at the International Documentary Film Festival Amsterdam last year. Their idea was well-received at the time, but the duo then spent a lot of time making Die With Me available on the Apple store.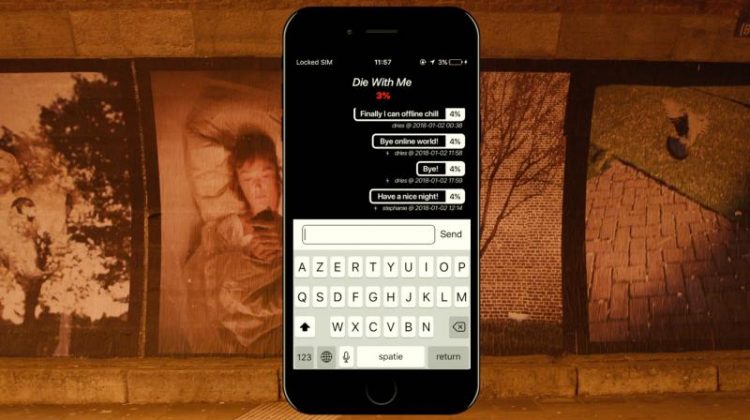 "We had many phone calls with Apple about the app," Depoorter explained to Digital Trends. "For Android, it was really simple; they don't have a difficult review process. But Apple was different. We think the iOS App Store is really killing creativity, and we know a lot of artists that have had similar problems."
Ultimately, they were allowed in, and Die With Me quickly shot to No. 15 in the App Store's Entertainment category.
According to Depoorter, the app has so far recorded over half a million messages in conversations worldwide, with an average of eight people in the chatroom at any given time. Depoorter also said he and Surprenant intend to make a book with a selection of messages recorded by the app at some point in the future.
"We wanted to do something positive with a low battery," Depoorter said. "Now we see people happy with a low battery, having low-battery conversations."