The FlashTorch Mini flashlight is about as close as you can get to a real-life, commercially-available lightsaber. Its 2300-lumens halogen light output is enough to start a fire or cook an egg.
Created by Wicked Laser, the FlashTorch Mini is made of anodized, machined aircraft-grade aluminum and features a highly efficient, heat-resistant lens and reflector. That already sounds very impressive, but it's the intense light this thing emits that really makes it special. The 'torch' in its name has a very literal meaning, as the 2300 lumens output is more than enough to start a fire if you hold the flashlight close enough to something flammable. It's also strong enough to melt plastic and even cook eggs, if you balance the cooking container on top of the flashlight.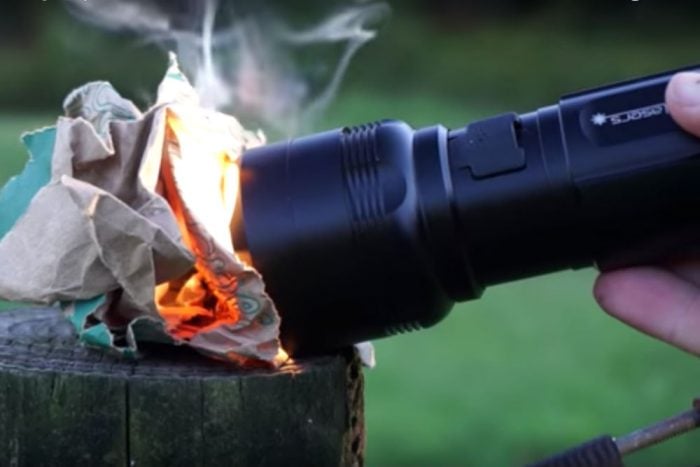 The FlashTorch Mini is the equivalent of 100 incandescent light bulbs or a hall-sized video projector. That sounds crazy, but it's actually weaker than the original FlashTorch, which has an insane output of 4100 lumens. However, at 8.5 inches long and weighing just 0.85 pounds, the Mini version is considerably smaller and lighter than the original FlashTorch, making it easier to carry around in a backpack, or even a large pocket.
In case you don't always need to light up an entire football field, the FlashTorch features three intensity settings, allowing users to save battery life. At maximum power, its lithium-ion allegedly lasts an hour, while at the lowest intensity, battery life reaches 100 minutes. The battery pack recharges without removing it from the case, with an included charger.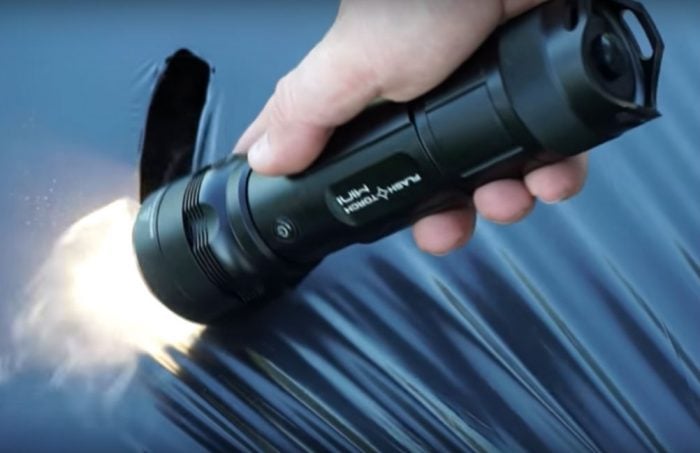 With so much power available at the push of a button, the guys at Wicked Laser decided it would be a good idea to add an automatic lockout mode, which prevent people from accidentally setting their pants or backpacks on fire.
This terrifyingly powerful camping accessory is currently priced at $200. That's pretty expensive for a flashlight, but this is a freaking lightsaber without the iconic Star Wars sounds.