If you're a dog lover visiting Bangkok, you simply must stop by the True Love Café, a wonderful place where you can get a taste of Thai cuisine, or enjoy some refreshments in the company of dozens of adorable huskies.
The True Love Café opened in 2013, when Chotiros Ratanabirabongse, Paw for short, a long-time husky breeder, decided to convert his farm into a place where people could interact and learn more about this wonderful canine breed. The place instantly became a hit with tourists, and today it is one of Bangkok's most popular attractions.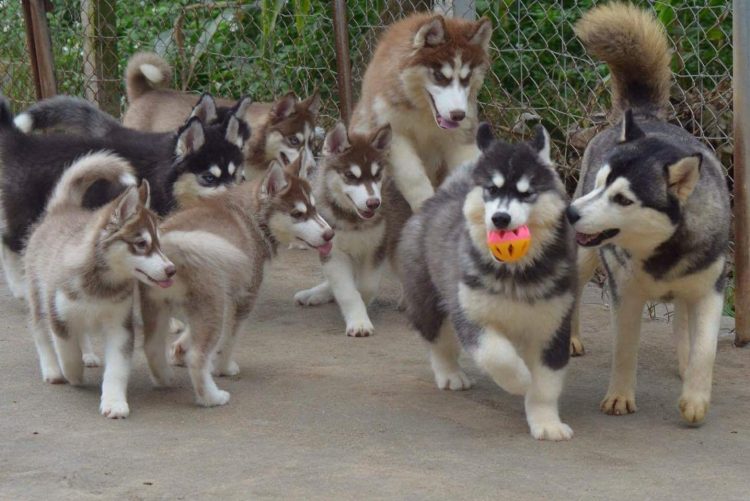 Photo: True Love Café/Facebook
To be able to meet the 25 huskies of True Love Café, patrons must pay a fee of 350 baht ($10) per hour, which also includes a free cake and drink. The doggies get 5 different play times every day, 3 of which (12:30pm, 3:30pm and 6:30pm) are open to human visitors. But before you get to enter their caged areas to play with them and pet them, there's a strict protocol that you have to follow. Patrons must wash and disinfect their hands, put on plastic foot coverings and watch an etiquette video explaining various rules that need to be followed when interacting with the dogs.
Café owner Paw says that although huskies are very intelligent creatures, they are also very tough to train. They love to play and receive affection, but also to chase and grab anything that runs, which is why visitors are advised not to run in their enclosure.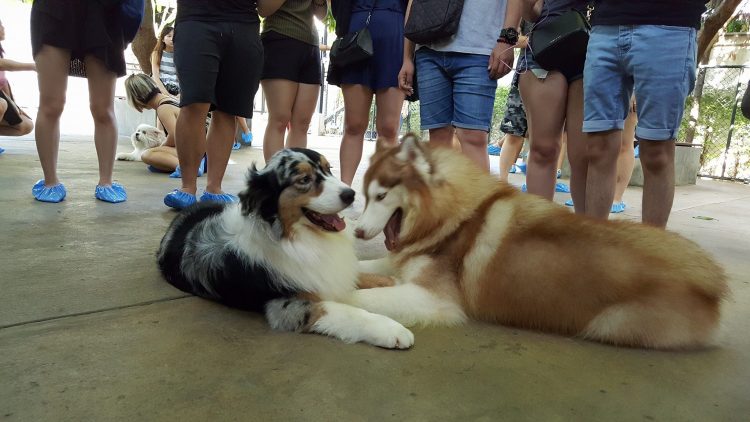 Photo: True Love Café/Facebook
Thailand's hot climate is not exactly ideal for a Siberian dog breed, but Paw tries to make them as comfortable as possible. The dogs are regularly fed large bowls of ice to cool down, and their pens are kept at a constant 23 degrees Celsius, with the help of 24-hour air-conditioning.
This charming True Love Café is home to 25 gorgeous huskies, 2 Australian Shepherds, 1 Japanese Akita and 1 little Shih Tzu. The huskies are split into three "enemy" groups, each with their own enclosure, because they will fight if put together. However, they are all very friendly with humans, and love nothing more than posing for selfies and being petted.
As you can imagine, such a unique venue is insanely popular, so it's a good idea to call for a reservation, rather than showing up unannounced. Symone Oei of The Smart Local blog made the mistake of dropping by without calling in first, and had to wait for two hours to enter True Love Café. The place is packed every single day and Paw asks visitors to wait outside, to avoid overcrowding.
True Love Cafe is the world's first and only husky cafe, but certainly not the only animal cafe. Japan is famous for its cat cafes, reptile cafes and even owl cafes, and South Korea has its own dog cafe, as well as a sheep cafe, among others. It seems that whatever animals you're into, there's bound to be a cafe you can interact with them at.
via: Asia One