From the outside, the famous "Tomb Villa" in the Vietnamese province of Ben Tre looks like an ordinary household, but step foot through the front door and you'll notice that instead of the usual dining table there is a creepy marble tomb complete with a shrine to the person buried in it.
Living in a mansion with a tomb in the middle of the living room sounds like the plot of a horror movie, but for the inhabitants of the so-called Tomb Villa of Tan Thac Commune it's everyday life. It sounds unbelievable, and many people still don't believe it, especially since Vietnamese law clearly states that burials can only be carried out in cemeteries or on the holy ground of churches and temples, but the story of this unique villa has been documented online for over a decade now. It's an inhabited house with an occupied tomb in the middle of the living room…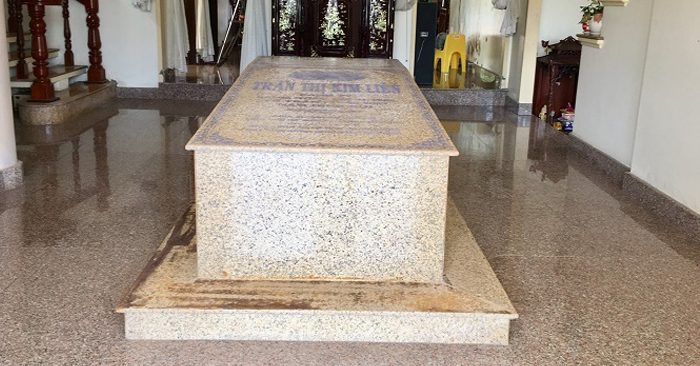 Photo: Vietnamnet
The story of this now famous landmark of Ben Tre province began on January 28,1960, when local woman Dang Thi Nhan gave birth to a daughter she named Tran Thi Kim Lien. Lien grew up poor, but at age 18 she fell in love with a fishing boat owner and three years later they emigrated to the United States, the land of opportunities. She became a manicurist and later started an interior design business, which allowed her to lead a comfortable life and also send money to her family back home.
In the early 2000's, during a visit to her home town, Lien told her mother and three brothers that she planned to return home eventually, and asked them to build a spacious villa to replace the old hut she had grown up in. She wanted the family to be reunited under the same roof, and offered to fund the construction herself. When the impressive mansion was completed in 2006, it was the only such home in all of Tan Thac Commune, but sadly Tran Thi Kim Lien only got to live in it for a few months.
In 2007, soon after moving home from the US, Lien got sick and was eventually diagnosed with a form of cancer. She sought treatment with local doctors, but as her condition worsened, she decided to return to the US for treatment. As if somehow knowing she would never return, Lien asked her mother to fulfil her final wish.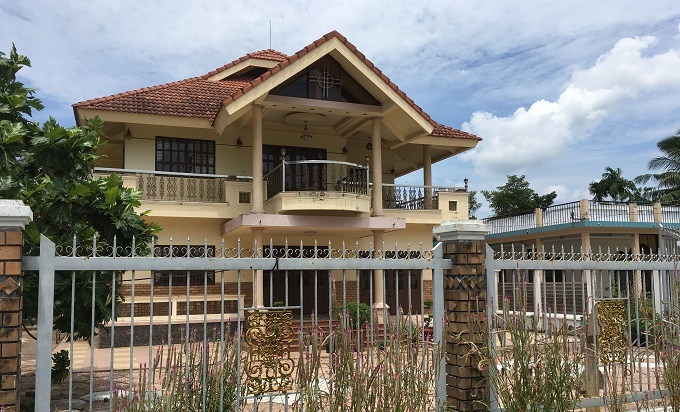 Photo: Vietnamnet
"I never got to live in a mansion, so when I die, please bury me in this one," the woman reportedly asked her mother.
Lien died on May 10, 2007, and her family decided to have her body brought back to Vietnam so it could be buried according to her instructions. Dang Thi Nhan used to tell visitors that the villa was built with money from her daughter, so it was only right that she fulfil her dying wish. She wanted to be surrounded by her family even after death, and so she has been to this day.
The family hired workers to cut the marble floor and dig Lien's grave, which was then covered with a massive marble tomb. They also set up a shrine for her, complete with a large picture of her, candles and burning incense. Her funeral was attended by most of the people in Tan Thac, including authorities, which probably explains why no one objected to the illegal burial location.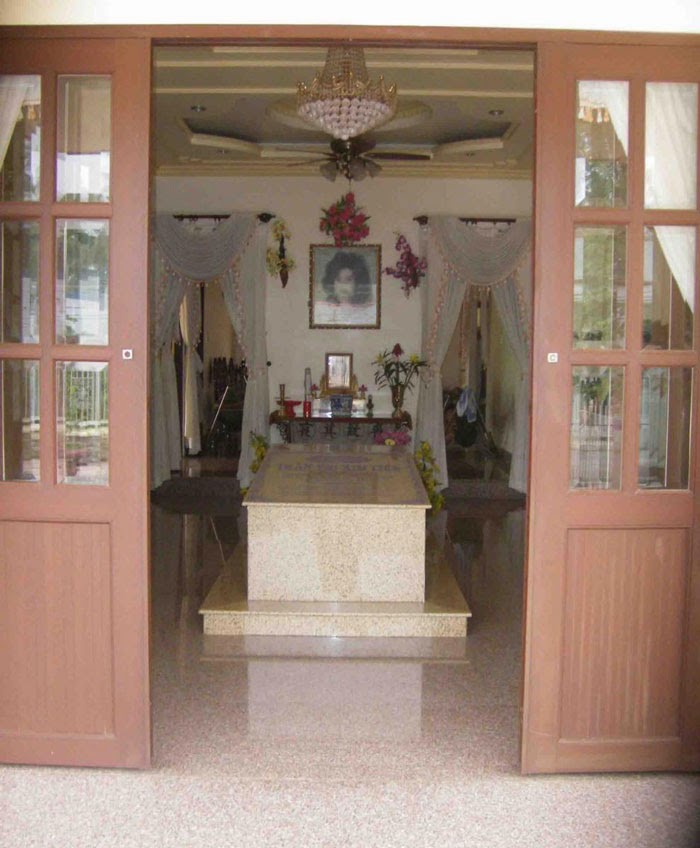 Photo: Facebook
As news of the villa with a tomb in the middle of its living room started to spread around Ben Tre province, rumors of ghosts and unexplained phenomena started going around. Many swore that the house was haunted, but Lien's family have been living there for the past 12 years and claim that they've noticed nothing unusual in all that time.
Tomb Villa is currently inhabited by Lien's youngest brother, Tran Van Tuan, and his family. He recently told Vietnamnet that apart from getting visits from people wanting to see if the legend of the villa with a tomb in its living room is true, life in the famous house is pretty ordinary. His added that his greatest joy was being around his sister all the time…
So if you're ever in Vietnam and want to see something truly unique, albeit pretty creepy, put the Tomb Villa on your list. It's located about 500 meters from the old Rach Mieu ferry, in Tan Thac commune.
If this one's too creepy for you, maybe check out the magnificent Thanh Thang Palace in Gia Vien.