In a bid to make its exotic fish tank more appealing to visitors, an aquarium in the Chinese city of Guizhou wrote popular Chinese surnames on the live fish, attracting the wrong kind of attention in the process.
Staff at the Guizhou Polar Ocean World thought they had struck gold when they came up with the idea of writing common surnames like "Zhao," "Hu" or "Wu" on dozens of live fish in an exotic fish tank, but the response wasn't as positive as they had hoped. Photos and videos of the yellow fish with bright red Chinese characters painted on their bodies quickly went viral on social media and inspiring thousands of critical comments from the general public.
Overwhelmed by the negative feedback, the Guizhou Polar Ocean World recently put out a statement saying that their exotic fish tank was generally overlooked by most visitors, and that the painted surnames were supposed to make the fish more appealing to the public.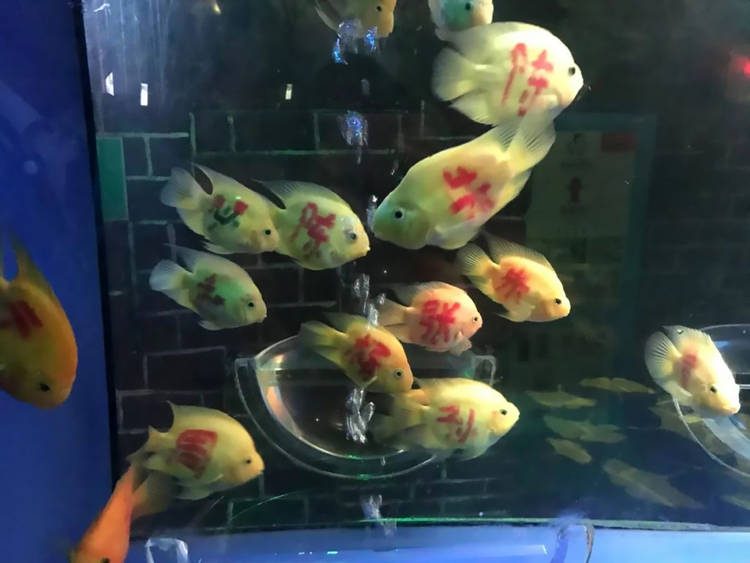 Photo: Global Times
A placard that read "Surname Fish! Can you find out where your surname is on the fish?" was placed over the aquarium, and people did indeed engage with the tiny fish more but only so they could post the photos online later.
The aquarium tried to downplay the whole thing, claiming that they "only used edible food coloring so it doesn't hurt the fish," and that the stunt could also help "popularize science," but people weren't having any of it.
"Come let me write the word 'Wang' on your face," one person replied to the aquarium's statement.
"It's not harmful to humans but how can you be sure that it's not harmful to the fish," someone else wrote.
Many social media users accused the management of the aquarium of coming up with the cruel stunt just so they could squeeze more money out of visitors.
"That's such a cheap gimmick to earn money from the visitors," a person commented.