A Vietnamese architecture student and diehard fan of The Dark Knight spent six months building his very own Batpod with the help of a team of friends.
Born in 1998, Nguyen Dac Chung was just a child when Christopher Nolan's The Dark Knight hit cinemas, but the movie made such a big impact on him that he grew up dreaming of one day driving his own Batmobile and Batpod on the streets of his native Hanoi. He fulfilled half of that dream in 2020, when he built a functional replica of the Tumbler, Batman's impressive Batmobile from the Dark Knight series, and earlier this month he completed his goal by unveiling a cool DIY Batpod as well.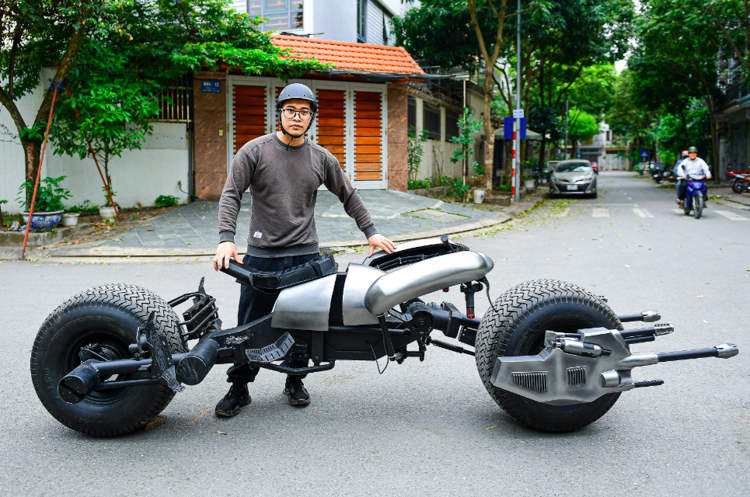 An alumnus of the Hanoi University of Architecture, Chung spent an entire year collecting images of Batman's iconic two-wheel vehicle and brainstorming ideas with a team of friends, and after deciding on how to go about building it, he spent over six months putting all the parts together at a factory in Cao Bang.
The DIY Batpod is 3m long, 80cm wide, 90cm high and weighs a hefty 250kg. It is made mostly of iron, with a steel chassis, and plastic armrests and guns. The real-life Batpod was designed with road safety in mind, so it is powered by an electric engine capable of propelling it to a top speed of 30km/h. That's more than enough for Chung, as speed was never a priority for him.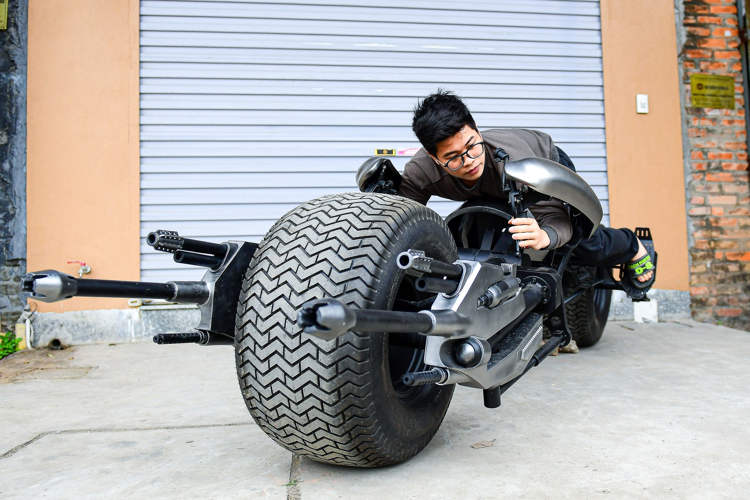 "Overall, this vehicle is designed to be 95% similar to the model in the movie," the young Batman fan told Dantri. "The unique feature of this Batpod is the ability to self-balance without a stand or support point. In addition, when driving the Batpod, the driver must be almost in a lying position parallel to the body of the vehicle."
The team encountered a number of challenges while designing and building the Batpod, from sourcing several important parts from outside Vietnam to the implementing of the steering system and wiring in a way that prioritized aesthetics. Chung estimates that the entire project cost around 200 million dong ($8,500), which is rather cheap for such a cool-looking vehicle. Most of that came from the student's cosplay costume business.
"I've been watching The Dark Knight since I was a kid, always dreaming of getting my hands on a superhero's vehicle," Nguyen Dac Chung said.