Tyrion Lannister isn't just one of the most beloved characters on HBO's hit series "Game of Thrones", he is also the inspiration behind one of the most expensive cakes ever made – a 70-pound work of art showing the Halfman sitting on the Iron Throne.
The Broadway Bakery, in Dubai, recently celebrated the new season of "Game of Thrones" by creating an incredibly detailed cake featuring everyone's favorite imp, Tyrion Lannister. Made primarily of sugar paste and fondant, the edible masterpiece stands four feet tall and weighs a whopping 70 pounds, making it large enough to feed a crowd of 100 – 120 people. But who, apart from his sister Cersei, would have the heart to take a knife to this realistic model of Tyrion?
All the edible swords that make up the Iron Throne had to be shaped and painted individually, before assembling the iconic chair, and Tyrion himself took even more work. The artists in charge of the project tried to get the tiniest details, down to his stubble and facial scars, just right. All in all, it took "2 expert cake artists accompanied by a team of 18 talented chefs working over a period of three weeks" to finish the cake.
The sugar paste and fondant were covered in 15 kg of the finest Belgian chocolate, and the gold goblet in Tyrion's hand, as well as the artistic motif on his shirt were actually painted in 28 grams of edible gold. This raised the cost of the cake to a staggering 91,800 dirham ($27,000).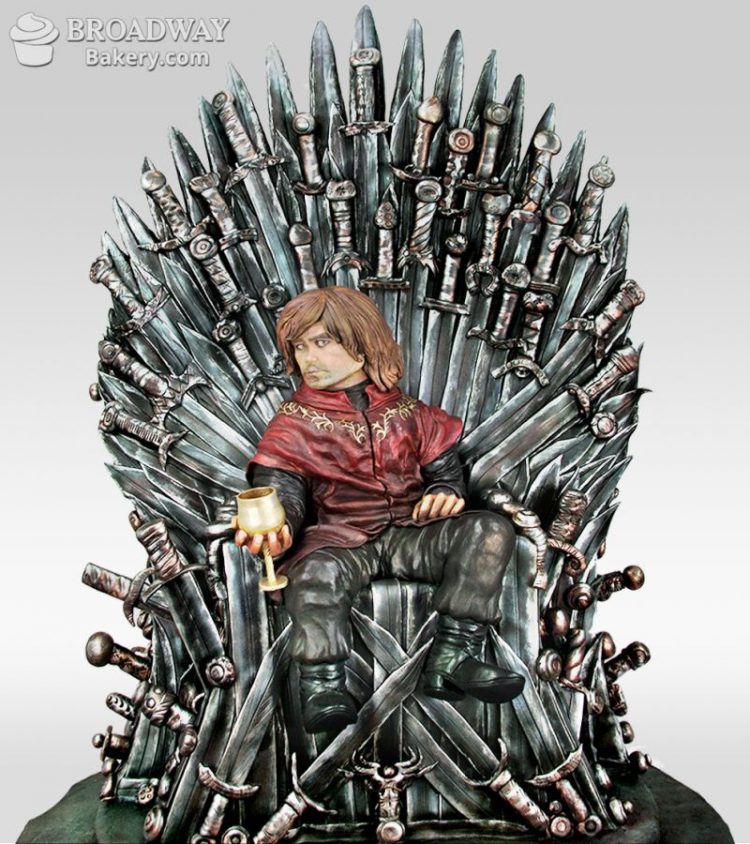 "This epic four-foot high cake is a majestic tribute to the legendary Tyrion Lannister – the rightful King of the Seven Kingdoms," the Dubai bakery wrote.
The photos shared by Broadway Bakery don't really do this edible masterpiece justice, but luckily, they also posted a video detailing the work that went into making it from scratch.