Jeans are usually synonymous with denim, but British fashion company Topshop seems to think plastic works too. Its 100% polyurethane see-through jeans went on sale last months for a whopping $100, and got some not so-positive reactions online.
Why would anyone ever think that plastic pants, be they jeans, leggings or what-have-you, are a good idea? Well, nobody knows, and Topshop has yet to comment on what inspired the unusual garment, but somehow it seems to be a huge hit with shoppers. A few weeks after showing up on the Topshop online store, the MOTO Clear Plastic Straight Leg Jeans are currently out of stock.
Photo: Topshop
Just last week, people were bashing Nordstrom for charging $425 for a pair of jeans caked in fake mud, but it turns out that they weren't the only ones with crazy ideas. Topshop took the strange-looking jeans idea even further by completely taking denim out of the equation and replacing it with clear plastic. At $100 a pair, they are much cheaper than Nordstrom's dirty jeans, but twice as weird-looking.
The MOTO Clear Plastic Straight Leg Jeans incorporate most of the elements of their fashionable MOTO jeans, including the signature cut and classic pockets, but the total lack of denim makes it hard to even consider them jeans. They just look like a plastic bag that you can sweat in, if you're looking to loose some fat off your thighs.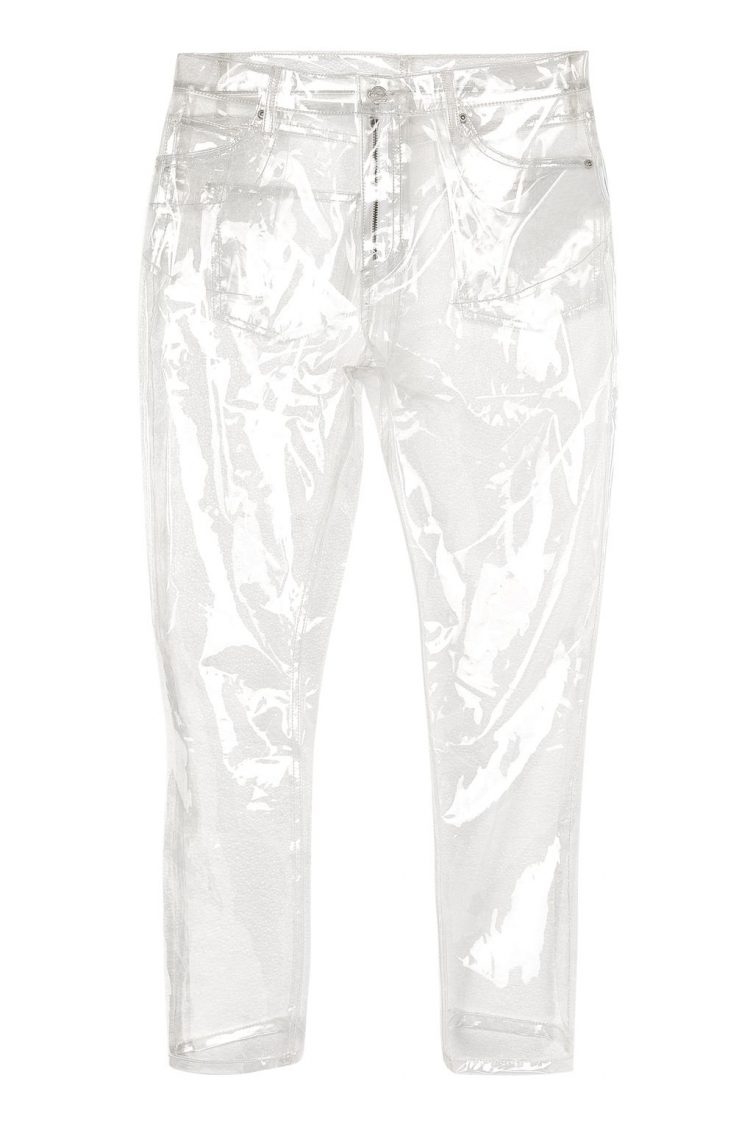 Photo: Topshop
At first everyone thought they were some sort of joke, but as time went by and Topshop kept mum about its wacky new product, people stopped laughing and started expressing their disbelief online.
"£55 for a rain coat wrapped round my legs no thanks," one person wrote on Twitter.
"Finally !! topshop make a pair of jeans which won't fade ! Phew," another commented.
Photo: Topshop
But despite the avalanche of negative reactions online, the clear plastic jeans appear to have sold quite well, since they're sold out. The few reviews left by customers are also positive.
"Another quality garment from Topshop. Amazing that they managed to stitch together a pair of jeans from something other than denim and still managed to finish up with something that still looked like jeans,' CommanderCody wrote.
Photo: Topshop
Not too long ago Topshop made headlines for a pair of mom jeans that had clear plastic knee patches, so I guess that with the completely clear plastic jeans they just took that idea one step further. Who knows what they'll come up with next.