Sally Dawly is a woman on a mission. Over the last three and a half years, the anti-littering activist has spent most of her free time picking up cigarette butts from the streets of her home city of Auburn, in California, and on this year's Valentine's Day she picked up her millionth butt.
Dubbed the "Butt Lady" by her local community, Dawly began her quest to rid the streets of Auburn of cigarette butts in October 2014. Armed with a broom, dustpan and a pair of tongs, the woman started scouring the streets of her town in search of discarded cigarette butts, picking them up and throwing them in the trash, where they belong. To keep a tab on how many butts she picks up, the Butt Lady has been using a clicker, and earlier this month, she hit a historic milestone – one million cigarette butts.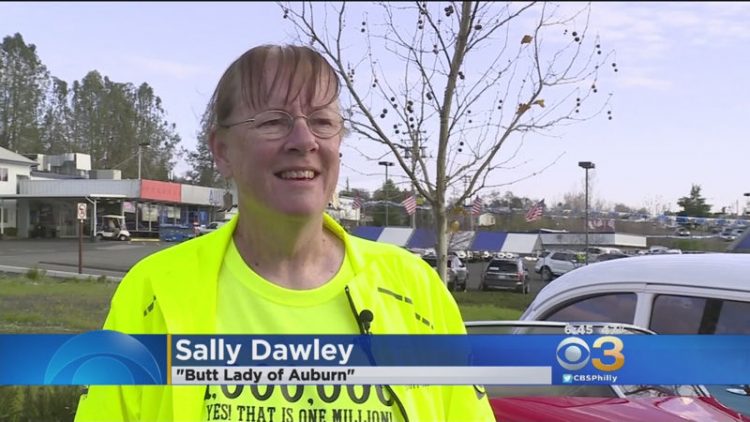 Photo: CBS Philly video screengrab
"I got tired of going on my walks and seeing cigarette butts everywhere," Sally Dawly told KTXL-TV. "I'm just overwhelmed and shocked that I had to pick up this many. I keep track on a daily basis of how many I pick up and I just keep going."
One million discarded cigarette butts picked up by just one person in 3 and a half years might sound impressive, and it is, but it's not all that surprising, considering that one some days, the Butt Lady picks up thousands of them from the streets.
"I've had days where I've picked up 3,000 butts, in one day, and it's like, come on people," she said. "Don't throw your butts, better yet, stop smoking."
With so many cigarette butts littering the streets, can one person's efforts really make a difference? Surprisingly, the answer seems to be yes. Soon after the Butt Lady of Auburn started her mission and word of her efforts spread, cigarette receptacles started popping up around bars and restaurants in the city. Members of the local community have also been very supportive, even coming out to cheer her on as she approached her 1 million butt milestone.
Dawly knows her city's cigarette butt littering problem won't be solved anytime soon, but she hopes her work will inspire people to at least think twice before discarding cigarette butts on the streets. She has vowed to continue cleaning up after irresponsible smokers, and already has a new milestone in her sights – 2 million cigarette butts.
Word of the Butt Lady's efforts to keep the streets cigarette butt-free has reached neighboring communities as well, and CBS Sacramento reports that other cities have started seeking her help as well.