A young couple who quit their jobs and sold everything they owned in order to buy a boat and go on an epic sailing adventure had to put their bold dream on hiatus after their sailboat sank just two days into their voyage.
Tanner Broadwell and Nikki Walsh had been planning their once-in-a-lifetime adventure for over two years. They both had jobs they didn't really enjoy and felt that there had to be more to life than constantly being involved in a rat race. Tanner, who had grown up in Cocoa Beach, Florida, convinced Nikki that sailing around the Gulf of Mexico, maybe even the world, was the escape they were both looking for, and they started working harder to make their dream a reality. They started saving money, he Ubered on the side, and last year they took the plunge. The couple quit their jobs, sold everything they owned and bought a 49-year-old sailboat in Alabama. The boat cost $5,000, but they had so spend that much more fixing it up.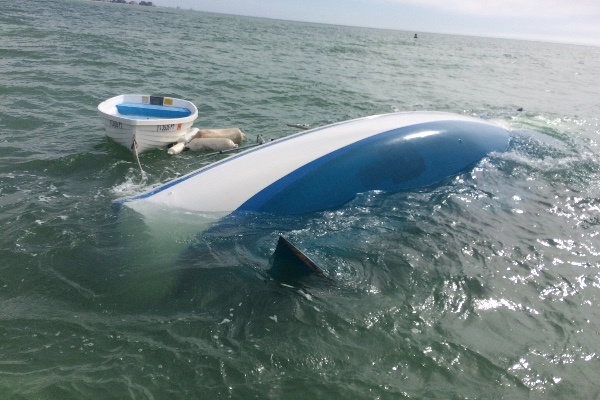 Photo: Tanner Broadwell/GoFundMe
Neither of the two would-be adventurers had any sailing experience, so Tanner's father helped them sail along the Gulf Coast, from Alabama to Panama City. In May of last year, the couple stocked the boat with all their worldly possessions and moved from Colorado to Tanner Springs, Florida, where Broadwell got a job and continued working on the boat, getting ready for their epic voyage. The sailboat, which they named Lagniappe (Creole for 'bonus'), became their home
On Tuesday, February 6th, the two finally set of on their sailing adventure, leaving Mar Marina to the cheers of the people they had befriended in Tanner Springs. It was the perfect start to their dream, but it wasn't going to last very long.
The first day of their new life went by as planned, and they anchored off in Anclote Key for the night. The second day also went by without major issues, but around 8:45 pm, just as they passed by Clearwater Beach and made their way to John's Pass to dock for the night, disaster struck. Their boat, named Lagniappe (Creole for 'bonus'), struck something underwater and almost threw Nikki off the deck.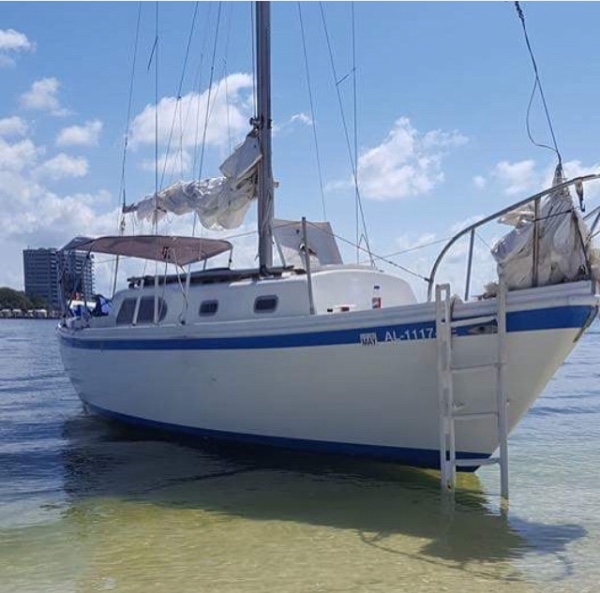 Photo: Tanner Broadwell/GoFundMe
Tanner quickly realized that whatever they hit had ripped the keel off the bottom of the Lagniappe. As he went down into the cabin to check the damage, he saw their belonging floating on the water that was quickly pouring in. Realising the seriousness of the situation, Broadwell immediately called Sea Tow, the AAA of the marine world, and they said they would be at their location in 40 minutes.
When Sea Tow arrived, about an hour later, the Lagniappe had sunk about 9 feet and was about to roll over. All they could do was instruct the Broadwell and Walsh to abandon ship and transport them to shore as their boat went under. All they remember from that point on is finding themselves stranded on the side of the road with just their small dog, $90 in cash and the clothes on their backs.
Tanner's mother was able to call them an Uber driver who was kind enough to spend hours finding them a cheap hotel to spend the night in.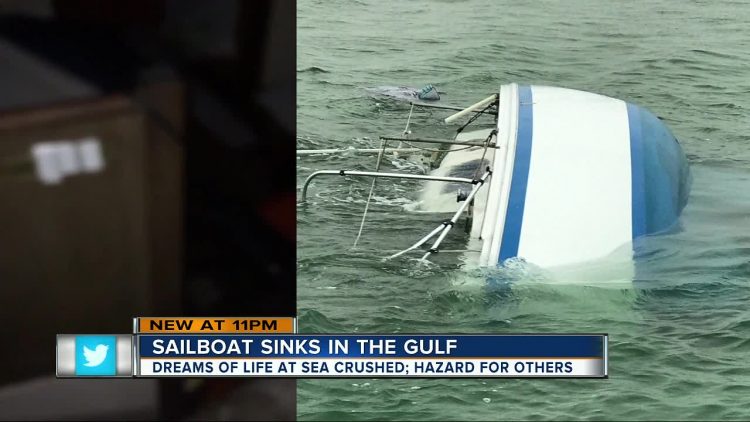 Photo: ABC Action News
"How do I have everything, and end up in a shitty hotel with nothing?" Nikki remembers thinking as she struggled to cope with their misfortune. "I just lost everything I ever owned."
The next day, things started getting better. Their new friends from Tanner Springs drove down to help them and Broadwell's mother arrived from Jacksonville. They're getting by ok for now, but they still have no idea where they'll live from now on, or how they're going to pay to have their bat removed from John's Pass. The Coast Guard has already told the couple that they need to get their boat out of there, an operation that could cost up to $10,000. They only have $90, no jobs and no insurance.
However, Tanner and Nikki are glad to be alive and claim that although their sailboat may have sunk, their dreams are very much alive. Broadwell told the Tampa Bay Times that he plans on getting another boat at some point.
"I'm not going to give up now," Tanner said. "I'm going to get another boat down the road. We can't just give up on our dreams."
As for what caused the Lagniappe to sink, Kenny Keen, a local charter boat captain, told ABC Action News that storms often shift the channel leading to the docks and large sandbars wait to trap boats if their captains don't hit the buoys just right.
"We've also had several experienced captains hit that from time to time when there's been big storms and they try to get into the inlet and they don't hit the buoy just right," Keen said.
Meanwhile, Tanner and Nikki have set up a GoFundMe page where people can donate to their cause.