An Indian man has been making news headlines for honoring his late wife's wish to build a life-size statue of her so they can still be together.
Tapas Sandilya, a retired government employee from India's West Bengal, lost his wife of 39 years in 2021, during the Covid-19 pandemic. Indrani was taken to the hospital while he was forced into isolation, so he couldn't be by her side when she passed away. Determined to at least fulfill one of his wife's final wishes, Tapas started looking for an artist that could create a lifelike silicone statue of Indrani, and spent 6 months and around $3,000 on the unusual project.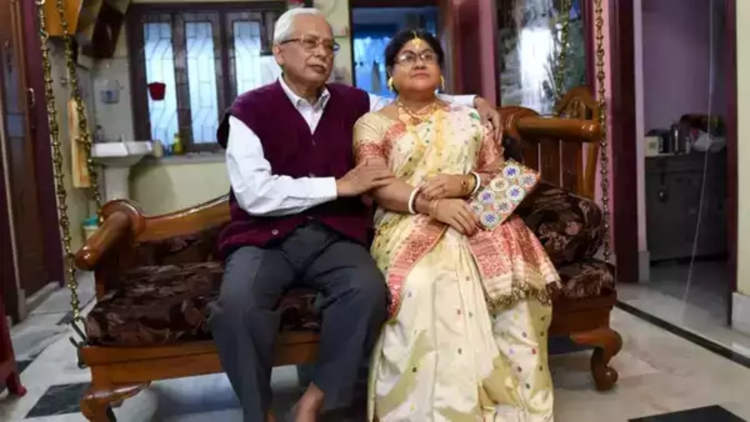 "We visited the Iskcon temple in Mayapur a decade ago and could not stop admiring the lifelike statue of the order's founder AC Bhaktivedanta Swami," Tapas Sandilya told The Times of India. "It was then Indrani had me of her desire for a similar statue if she happened to pass away before me."
Last year, Sandilya found a sculptor willing to work on the life-size silicone model of his late wife, and spent days working with him on a clay cast that would later become the base of the silicone casting. The 65-year-old made sure that the model came out to his liking, insisting that nothing less than Indrani's actual facial expression would do for him.
In the end, the sculptor came through, and a 30-kg silicone model of Indrani dressed in an Assamese silk sari that the woman had worn at her son's wedding reception is now permanently seated on a swing, her favorite place in the family home.
"My family was strictly opposed to the idea of installing such a life-like sculpture but gave in. Some of my relatives and neighbors helped," Tapas told Indian reporters. "If we can keep framed photographs at home after someone's death, why not a statue?"
Albeit bizarre, this sort of tribute to a late spouse is not unheard of in India. Back in 2021, we wrote about a woman who built a marble idol of her late husband, and a year before that there was the story of the man who lived with a lifelike sculpture of his dead wife.