For the average person, having a nice-looking signature is not that big of a deal, but for business people and public figures it's apparently pretty important. A strong yet elegant signature expresses confidence and can help build trust between business partners, so it's no wonder that some people actually pay for designer signatures.
Ivan Kuzin, a 20-year-old student from Krasnoyarsk, Russia, has created a lucrative online service offering business managers and entrepreneurs custom signatures. He came up with the idea last year, when he turned 20 and had to change his passport. He realized he didn't like his signature at all, and since had already started his first business, which was already bringing in steady income, he decided to change it. Ivan turned to his friend, Anastasia Zdor, who had mastered oriental calligraphy while studying in China. She designed a beautiful signature for him and then patiently taught him how to write it himself. The whole process got Ivan thinking about offering designer signatures to others as a paid service.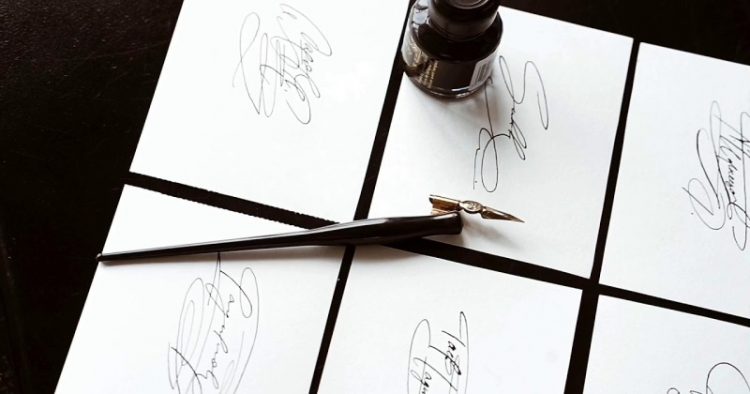 Photo: Write Tight/Instagram
While she was teaching me to do my new signature, I ran this idea by her – 'What if we were to create beautiful signatures for other people?'" Ivan recently told VC.ru. "She did not understand what I meant at first, but then I explained my plant to her and we decided to give it a try, although neither of us really had high hopes for the project."
Ivan had already registered a company so all they did was open an Instagram account, post some photos of Anastasia's elegant signatures, and spend 15,000 roubles ($230) on targeted online advertising. The first client contacted them about a job within 12 hours. Then new orders started coming in, and when they reached 40, they had to hire another caligraphy artist, because Nastia had a tough time coping with that amount of work.
View this post on Instagram
Write Tight launched in December of 2018, and by May of this year the company's revenues amounted to 2 million roubles ($30,500). There are now two other calligraphy artists working alongside Anastasia – but they've had as many as eight at one point – a photographer, a sales manager, and a head of sales employed at Write Tight. Ivan is in charge of testing strategies, hiring employees and general management, while Nastia takes care of the artistic side of the business. Since everything happens online, the company doesn't have an office, everyone works from home.
The service Write Tight offers is fairly complex. When a client contacts them about a designer signature, he/she has to undergo graphological testing,  so that that calligraphers understand what features the signature needs to reflect. Getting to know about the client is also an important stage, because the signature has to reflect their character. Once enough information has been collected, the client is asked to choose a font from a custom book created by the company's calligraphers which features only fonts that can be adapted to signatures.
View this post on Instagram
During the third stage of the process, Write Tight creates 10 signature samples according to the client's specifications. The samples are personally checked by Anastasia Zdor before being sent to the client to make sure they fit his/her wishes. If all 10 samples are rejected, the company has to come up with 10 more samples. Most of the time, clients request that they be simpler and shorter, which is especially important for people who sign many documents.
Finally, once the client has decided on a signature, Write Tight prepares educational material – a custom stencil, as well as video of the calligrapher executing the signature in slow motion, making it easier for them to see how their hand is moving and the sequence in which the lines are drawn. This makes it easier for them to replicate the process.
View this post on Instagram
The numbered training stencil is particularly useful, as it requires the user to connect numbered dots thus developing the motility of the hand needed to execute the signature. Ivan claims that just an hour or two of practice is all that's needed  to master the signature.
The basic signature creation is priced at 5,000 roubles and no discounts are offered, on the principle that this would devalue the calligraphers' work. And Ivan claims that most clients say that such a service should cost more anyway.
Write Tight currently gets two or three orders per day, but demand is definitely growing, so Ivan is confident that by the end of 2019 the company's revenue will increase up to five times. He's already planning to expand the range of calligraphy services beyond signatures, such as calligraphy courses, distribution of high-end fountain pens and tutorials on improving one's handwriting.
Ivan Kuzin says that the majority of Write Tight's clients come from big Russian cities like Moscow and Saint Petersburg, but also from foreign countries like Germany, England, Israel and the United States. Of the 400 orders the company has taken so far, only 50 were from women.