A convenience store owner in Osaka, japan, sparked a lot of controversy recently when he decided to close his business for a day on New Year's. Appaerntly that was a pretty big deal in a country where convenience stores a traditionally open 24/7, all year long.
While convenience stores are still pretty popular in the United States, they are nothing compared to the so-called "konbini" stores found on every corner of every street in urban Japan. They are beacons of hope that make life easier for the average person, offering a wide range of services (ATMs, Wi-Fi, printing, delivery services, etc.), as well as groceries, all in one place, day and night. In fact, the thing that makes Japanese convenience stores so convenient is that they are open all 24 hours a day, 365 days a year, making it possible for anyone to pick up some groceries, pay the bills or get a quick bite to eat,whenever they need to. So when one convenience store owner decided to close his business for a day on New Year's, it made national news.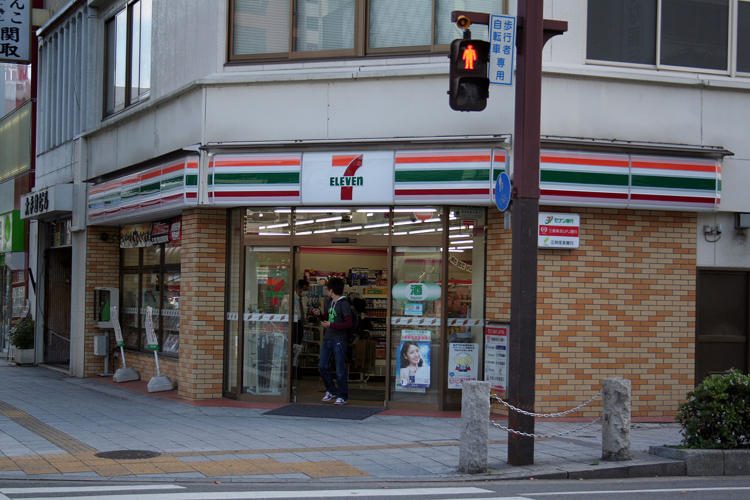 Photo: Wikimedia Commons
Last month, Mitoshi Matsumoto went from being one of the thousands of franchised convenience store owners in Japan, to somewhat of a national celebrity. He and his wife had bought the 7-Eleven store in Higashi-Osaka back in 2012, and everything went smoothly until Mrs. Matsumoto tragically passed away in 2018, leaving Mitoshi to handle the store mostly by himself. He was putting in 14-hour work days and because he couldn't find people willing to work there, he had to ask his son to quit college to come help him with the business.
By February of 2019, Matsumoto had gotten so tired of the draconian work hours demanded by 7-Eleven that he announced he would be closing down his store between 1am and 6am. As I mentioned, a big part of the konbini store cult in Japan has a lot to to with the fact that they are all non-stop, so Matsumoto's announcement was taken pretty badly by 7-Eleven. The company announced the franchise owner that he risked having his contract revoked as well as a $155,000 fine, but he didn't budge, and started closing down his shop for a few hours every night.
7-Eleven had yet to take any steps against Matsumoto even after he broke their rules and started closing his store, but then he went even further, announcing that he would be shutting down for a whole day so that he and his two full-time workers could have New Year's Day off. That was the last straw, and 7-Eleven terminated his contract. The official reasons offered by the company were that Matsumoto had been complaining about the 7-Eleven brand on social media and because of repeated complaints from customers, but the store owner and his supporters claim the company just wants to make an example out of him.
Ever since the stand-off between Mitoshi Matsumoto and the 7-Eleven parent company began, the franchised has been disconnected from the 7-Eleven chain, the ATM has stopped working, the computer systems have all been disconnected, and merchandise is no longer being delivered by suppliers. The shelves are mostly empty, and whatever is left to sell is being sold at considerable discounts. It's basically a rogue 7-Eleven now with no more ties to the parent company. At least until the lawsuit between the two parties is settled.
"I still think this is 7-Eleven," Matsumoto told SoraNews24. "Basically, we're just selling off the stock until the dispute is settled. After that, if the court decides I'm wrong, I'll hand over the store and walk away. If I'm right… I'm not sure what I'll do next."
The case of the rogue 7-Eleven has sparked a heated debate in Japan, with some siding with the parent company of 7-Eleven and other convenience store chains and arguing that Japanese konbini store are traditionally open non stop and that Matsumoto knew what he was getting into from the very beginning. Others claim that long work hours are already a huge problem in Japan, and that this non-stop knobini culture is only making things worse.