Les Grands Buffet à Narbonne is a unique all-you-can-eat buffet in Narbonne, France, where you can stuff your face with the most decadent dishes of French cuisine, in a luxurious environment, and without breaking the bank.
While the above paragraph may sound like the beginning of a sponsored post, that is most certainly not the case. I only discovered Les Grands Buffet yesterday, while on my daily session of internet surfing for interesting topics to write about, when some photos of what looked like a lobster fountain caught my eye. It turned out to be just one of the many eye-catching arrangements at the Les Grands Buffet in Narbonne, France, a unique all-you-can-eat-buffet that only serves the best dishes of French cuisine, from lobsters to foie gras and cassoulet. It's the kind of place that, as a gourmand, you simply have to visit at least once in your life.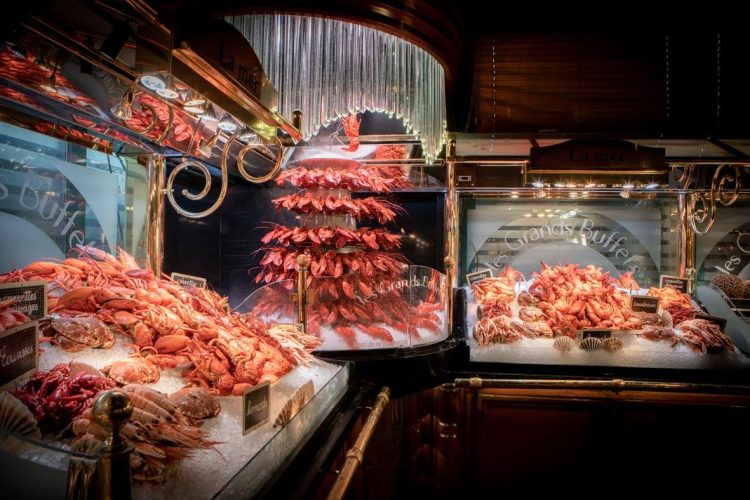 Photo: Les Grands Buffet/Facebook
Since opening its gates in 1989, Les Grands Buffet has been committed to preserving the tradition of "French Serving", the way that royals and the French aristocracy held their great banquets. It basically involves serving all the dishes at the same time in the form of an eye-catching buffet and inviting guests to choose whatever they like. Only that's kind of tough to do when faced with choosing from literally hundreds of food items, including 111 types of dishes, and 70 types of wine.
"There is a dizzying choice of foods, popular regional dishes stand side by side with the essential dishes of traditional French cuisine," the Les Grands Buffet website boasts. "Give your appetite free rein and put together your ideal menu. Start your gastronomic journey by stopping at the whole universe of hors d'œuvres, check out the seafoods, and then make your way to the rotisserie, finally let yourself go with our spectacular cheese selection. All you need now to conclude your banquet is a visit to the final table with its countless cakes and pastries. To accompany you as you make your way around the tables savoring all they have to offer, choose from our wine list with 70 different wines offered by the glass."
The gargantuan eatery is the brainchild of Louis Privat, who in 1989 set out to offer people quality products, at a reasonable price, while working with producers all throughout France. 30 years later, Les Grands Buffets is regarded as a sort-of Charlie's Chocolate Factory for fans of French gastronomy, a wondrous place where you can the best of French cuisine without breaking the bank.
In December of 2018, Les Grands Buffets à Narbonne set a new Guinness record for the largest cheese platter in the world in a restaurant. It features 111 types of French cheese served on a giant stainless steel platter, and it is on offer every day of the year.
Words simply don't do this place justice, to be honest, especially since we are talking about an all-you-can-eat-buffet, an establishment that, by definition, isn't supposed to be fancy. Yes, buffet food can be delicious, but it rarely consists of complex, decadent dishes created by experienced French chefs, and served in an environment reminiscent of French chateaux. You just have to see this place to believe it exists.
Although the impressive food is the main draw of this unique all-you-can-eat-buffet, the restaurant itself is worth a visit. Between the gilded chandeliers, the silver candlesticks, and the 17th-century tapestries that adorn the various rooms, it's hard to believe you are in a buffet, and not in a Versailles hall.
Interestingly, Les Grands Buffets à Narbonne holds the title of the largest restaurant in France, with a seating capacity of over 600. But, as a testament to its popularity among fans of gourmet food at a decent price, it always operates at full capacity. In fact, according to a recent news article, in September, it already had 110,000 reservations made weeks in advance. So if you ever plan on dropping by, make sure to call in advance.
So how much do you need to pay to eat at the world's most impressive buffet? Well, for €42.90 ($50), anyone can have the lunch or dinner of their dreams, stuffing their face with as much foie gras, French cheeses, pastries and a whole lot more. That's a bit more than the fee of most all-you-can-eat buffets, but then again, Les Grands Buffets is on a whole other level! No wonder this place has perhaps the highest ratings of any all-you-can-eat-buffet.