When you think of Mace pepper spray, 'awesome beer flavor' is probably not the first thing that comes into your head, but that's exactly why the adventurous people at Dog Head Brewery decided to create the world's first mace-flavored beer.
Dogfish Head Brewery is known for sometimes using weird ingredients – from pork scraps to dust from lunar meteorites – to create unique brews, so this collaboration with Mace Security International to create a mouth-numbing beer is not that unusual. Called "In Your Mace!", the limited edition drink is partially brewed with oleoresin capsicum, the active ingredient in Mace's pepper spray.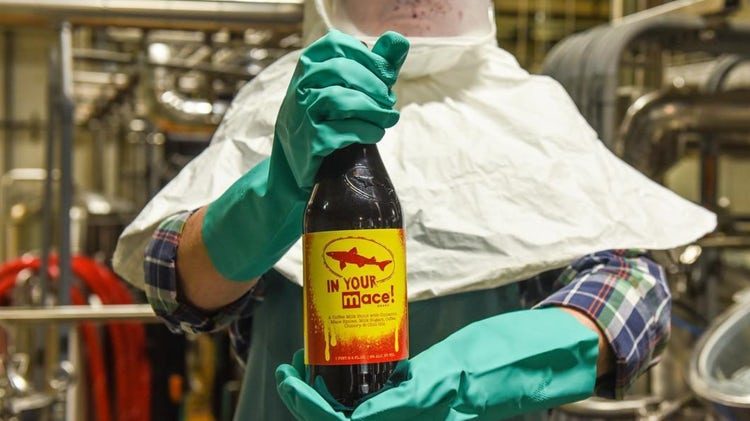 Photo: Dogfish Head Brewery
If you're wondering how the idea of a mace-flavored beer came about, it turns out that Dogfish's founder Sam Calagione and Eric Crawford, Vice President of Sales at Mace Security International are old buddies, going all the way back to high-school, where they played on the same varsity football theme. One day, while reminiscing about the good old days, they apparently agreed that it would be cool to make a beer with chicory, coffee, milk, sugar, and two varieties of mace, one taken from the hull of the nutmeg shell, and another from the same chile oil used in Mace pepper spray.
"We're always in search of unique, avant-garde, experimental beer ideas that push the boundaries of traditional brewing while still delivering rich aromas, flavor profiles and culinary ingredients that Dogfish beer fans count on and love," Sam Calagione said in a statement. "In Your Mace! is one of our most fun and personal partnerships to date and I'm super proud of this small-batch team-up with our friends at Mace Brand pepper spray. Any day we get to brew a beer wearing full body suits, face masks and respirators is a memorable day in the brewhouse."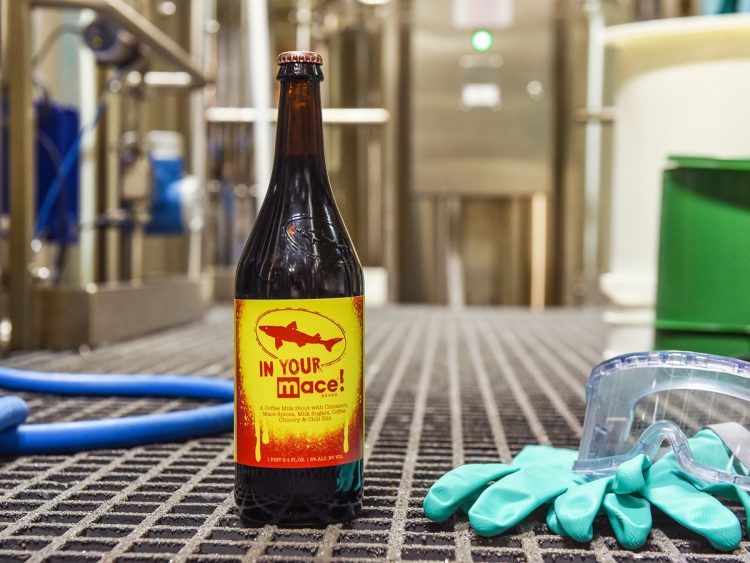 Photo: Dogfish Head Brewery
So how hot is In Your Mace! really? Well, it's not going to burn a hole through your throat or stomach, if that's what you're worried about, but Dogfish Head claims that it does have "noticeable heat".
If you're looking to get a taste of the world's first Mace-flavored beer, there's two ways you can go about it. You can find it on tap at the brewery's tasting room in Milton, Delaware, but you'll also be able to buy one of the limited edition 750ml bottles of the 5% ABV, starting February 17th. However, only 200 bottles of this stuff will be available, so you'd better act fast, really fast.