At just over 200 square feet in size and a yearly yield of 29 bottles of wine, Via Mari 10 is considered the world's smallest vineyard.
Located on the rooftop of a 16th-century palazzo in the heart of Reggio Emilia, Via Mari 10 – named after the name and number of the street – is not your average vineyard. Not only is it incredibly small in size, it also has an extremely modest yearly yield of wine. However, the most peculiar thing about the Via Mari 10 wine is that you're not supposed to drink it. The owner of the vineyard considers the 29 or so bottles of wine produced every year as works of art that should be collected and admired rather than consumed. That's kind of a problem, considering that you are expected to pay 5,000 euros ($5,000) for a bottle of wine you're not even supposed to drink.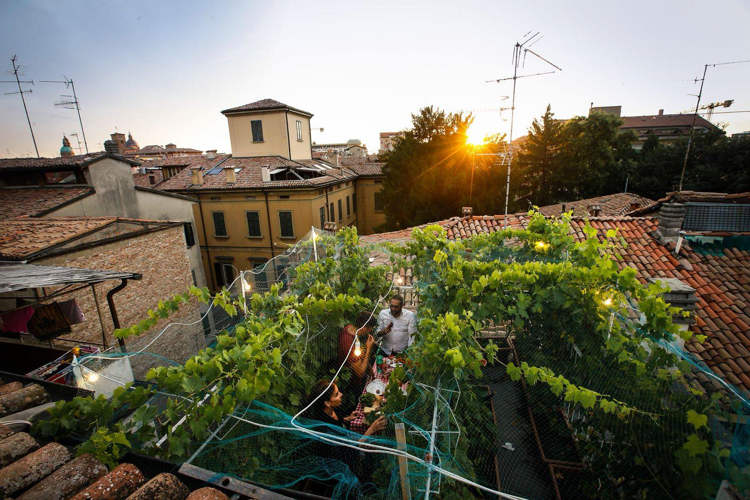 Photo: Via Mari 10/Facebook
"My wine is a form of artistic expression, a philosophical provocation, something to keep in your living room so you can chat about it with your friends and tell them about the lunatic who put a vineyard on his rooftop," Tulio Masoni, the owner of Via Mari 10, told CNN. "If you see a bicycle wheel in a living room rather than a repair shop, you realize how beautiful it is. My vineyard is like that: It's unexpected; it stimulates the brain; it sparks new thoughts."
Masoni founded the unusual vineyard after selling the countryside vineyard he had inherited from his father. At the time, he thought operating a vineyard wouldn't make any financial sense, but he later regretted it, so he decided to start his own miniature vineyard atop his medieval palazzo.
The Sangiovese vines that make up Via Mari 10 are reportedly fed with eggs, bananas, seaweed and nightingale droppings, apart from the urban noise that Tulio Masoni insists gives them an edge over countryside grape vines. However, that doesn't count for much, considering that you're not supposed to drink the wine.
"I'm the only wine producer in the world who says you shouldn't drink his wine," Masoni said, adding every bottle is a work of art designed to be contemplated, not consumed.
Via Mari 10 wine bottles can't be purchased at regular wine shops or even at the producer itself. Instead, they are offered through the local Bonioni Art Gallery at a price of 5,000 euros ($5,000). That sounds steep for a wine bottle, but if you think of it as a collectible artwork, I guess the price starts to make sense.
According to the Bonioni website, 10 Vila Mari 10 wine bottles are still available from its latest vintage (2019), with all previous yields being sold out. However, Masoni points out that not all of them were actually bought. Many were offered by the gallery as gifts to loyal clients.
And just in case you're curious what this incredibly exclusive red wine tastes like, Masoni claims that "at the first sip you get a lot of perplexity, but after a few seconds something comes alive in your palate that opens up your mind to a new dimension". Unless you have $5,000 to burn, you'll just have to take his word for it.