Meet Lulwa, also known as the 'Million Dollar Bride', a 120 kilogram-wedding cake shaped like a life-size Arabian bride. "She" was created by Debbie Wingham, 'the world's most expensive designer', and showcased at the 2018 Dubai Bride Show, in the UAE.
Wingham is the creator of some of the most expensive objects of desire in history, including a $16 million shoe, a $4.8 million black diamond dress, and the world's most expensive wedding cake which was valued at a staggering $67 million. With an estimated value of "only" $1 million, the designer's latest work, the Million Dollar Bride cake was one of her most affordable projects yet. But what the cake lacked in financial value, it certainly made up in style and realism.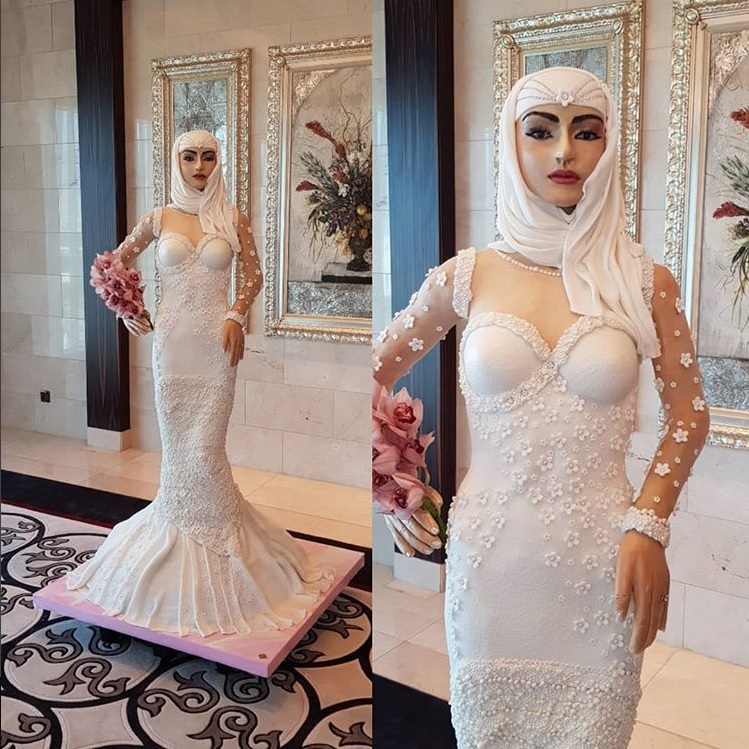 Photo: Debbie Wingham/Instagram
Lulwa – Arabic for 'pearls' – was modelled on a traditional Arabic bride wearing a stylish dress made of fondant. The cake consisted of dozens of layers of sponge, 25 kilograms of chocolate, and around 50 kilograms of fondant. It weighed about 120 kilograms and had to be carried by no less than six people.
"No one actually believes it's a cake. In fact, she is as good as a living being for me. I call her Lulwa," Debbie Wingham told Khaleej Times. "I have often been influenced by Middle Eastern culture. To actually make a Middle Eastern-inspired wedding cake is really up there with my other exciting endeavours. Most of my pieces are based on realism and I am glad that people liked it."
The edible bride's features were sculpted out of modelling chocolate, and her dress was almost entirely made of lace-textured white fondant. Her impressive gown was decorated with 5,000 hand-cut fondant flowers and 10,000 edible pearls. Even though Wingham described her creation as fully edible, that most certainly does not include the five large diamonds dotting the dress and headgear of the bride. Each priced at $200,000, it was these diamonds that inspired the cake's "Million Dollar Bride" name.
Lulwa was unveiled on the opening day of the recently concluded 2018 Dubai Bride Show, and later cut and served to guest of the event.