Emel Espiritu, a young, talented artist from the Philippines, has been drawing a lot of attention because of his hyperrealistic portraits which are almost indistinguishable from photographs.
As a young boy, Emel Espiritu loved to draw, so his father taught him the basics. However, as he grew up, his interest for drawing only grew, but his father didn't want him to pursue an artistic career and pushed him toward a more practical profession. Emel studied "fisheries" in college, but he never really got over his passion. He never stopped drawing. Instead, he honed his skills by watching YouTube tutorials and working odd jobs so he could afford painting supplies. Luckily, it all paid off, as the young artist is now famous for his ultra-realistic painted portraits.
Hailing out of Muñoz City, Emel Espiritu made a name for himself by taking on complicated portraits of elderly men and women and doing as good a job as an expensive camera. The wrinkles, the skin folds, the moles, and the age spots, those are all challenging features to depict in a painting, but the young Filipino relishes a challenge, and most often than not, he does a brilliant job.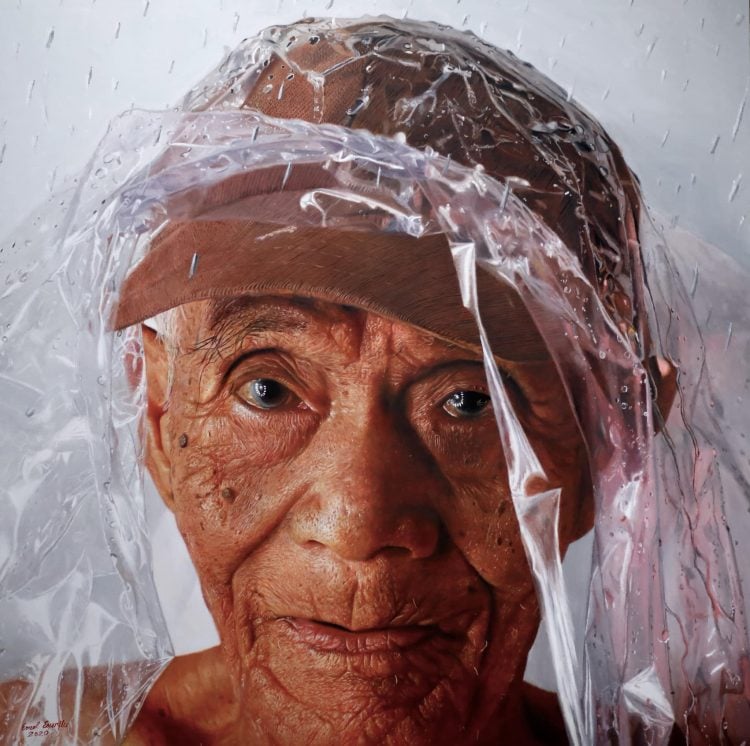 Emel has painted around 30 hyperrealistic portraits so far, most of them of elderly people. He can spend up to a month on a single artwork, depending on its complexity, and he posts all of them on his social media profiles.
The young artist never finished college, because he couldn't focus on something that he wasn't passionate about, but he has managed to support himself by doing what he loves. Although he hasn't yet had his own art show, Emel Espiritu has been selling his works online to lovers of fine art, including celebrities like Filipino journalist and talk-show host Julius Babao.
For more of Emel Espiritu's hyperrealistic portraits, check out his Facebook page and his Instagram.
Over the years, we've featured some pretty amazing hyperrealism masters, artists like Danila Shmelev (Shozy), Anna Halldin Maule, or Hirothropologie. If you're a fan of this art style, we strongly recommend that you check them out.